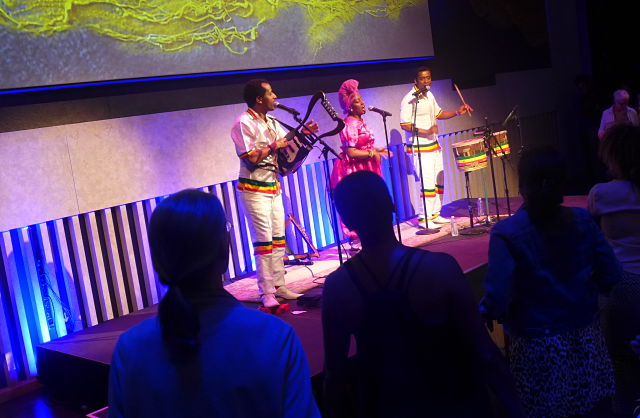 Tadias Magazine
By Tadias Staff
Published: Friday, September 25th, 2015
New York (TADIAS) — If you missed Krar Collective's stellar show at Lincoln Center's Atrium last night you have one more chance to join them at Rockwood Music Hall in Manhattan this evening.
The London-based Ethiopian traditional music trio's performance had the crowd leaping to its feet with their final rendition of a traditional Guragigna song at Lincoln Center on Thursday night.
Led by Temesgen Zeleke, a former student of Mulatu Astatke, the father of Ethio-Jazz, Krar Collective uses a minimal band set consisting of traditional and electronic Krars (harps), Kebero (drums) and accompanied by soaring vocals to create sounds that blend traditional Azmari ambience with contemporary sounds of rock and jazz. Lincoln Center describes their sound as "a rootsy yet contemporary take on traditional music from Ethiopia based on other-worldly modes and driven by hypnotic rhythms."
Below are photos from Krar Collective's show at Lincoln Center on Thursday, September 24th, 2015.
—
If You Go:
Krar Collective at Rockwood Music Hall (Stage 2)
Friday, September 25th at 10:30 PM
196 Allen St, New York, NY 10002
Doors open at 10:15pm
Price $10 (Ages 21 and over)
Click here for tickets
Join the conversation on Twitter and Facebook.