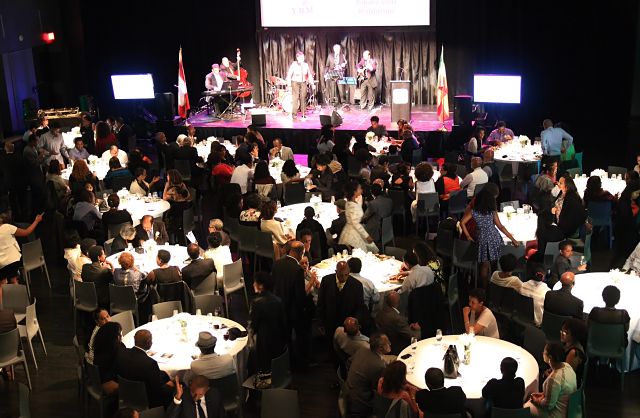 Tadias Magazine
By Samuel Getachew
Published: Tuesday, September 29th, 2015
Toronto, Canada (TADIAS) — The Bikila Award honored the best of the Ethiopian Diaspora in Canada at a sold-out event at the prestigious Daniel Spectrum Center in downtown Toronto this past weekend.
Among the honorees were 91-years-old Habteselassie Tafesse, known as the 'father of Ethiopian tourism'; Duke University student, Pencil Mountain and UNICEF honorary ambassador to Ethiopia, Hannah Godefa; and Weyni Mengesha, an Ethiopian-Canadian, California-based acclaimed director of theatre arts.
In accepting the honor, Godefa, the celebrated humanitarian activist who became the youngest recipient of the Bikila Award at 17, reflected on her fourth grade experience when she discovered Abebe Bikila on a school assignment in black history. "As students focused on the heroes of the civil rights movement my father encouraged me to focus on the great Olympian," she reflected. "Since then, I have used his exemplary actions to help me achieve my own goals," she added.
Honored guest Dr. Senait Fisseha, an Ethiopian American humanitarian, medical doctor and lawyer encouraged the audience to reflect on the importance of helping the less fortunate in Ethiopia. Dr. Fisseha recently became Director of International Programs at Buffett Foundation, but remains an adjunct faculty at the University of Michigan where she led efforts to help train doctors in Ethiopia with an anonymous donation of $25 million.
Another speaker, Michael Grevers, Professor of History & Fine Arts, challenged Ethiopian-Canadians to help him raise $50,000 in order to help create a chairmanship in Ethiopian studies at the University of Toronto. He promised to donate $50,000 of his own funds if the community can help him achieve his goal. Professor Grevers is currently working on the "entire manuscript collection of the 15th-century Ethiopian monastery at Gunda Gunde" to make it available online.
The keynote speaker was the noted Ethiopian-American filmmaker Haile Gerima.
Last year's honorees included Professor Kibret Mequanint; music artist The Weeknd (Abel Tesfaye); Oxford University PHD student, Alpha Abebe; and former Canadian Cabinet Minister and Ambassador to Ethiopia, Honourable David MacDonald. This is the second year that the Bikila Awards were presented.
Below are photos from the 2015 event courtesy of organizers.
—
Join the conversation on Twitter and Facebook.