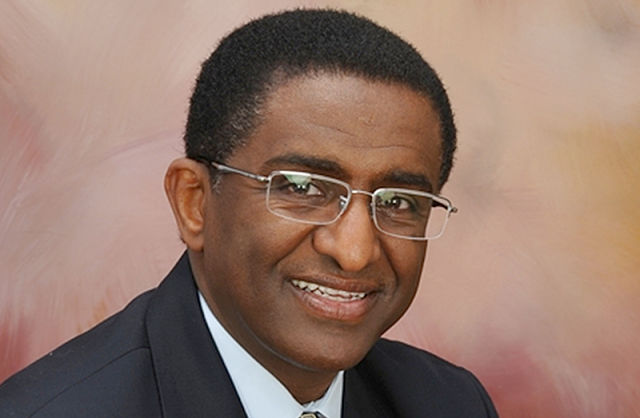 Tadias Magazine
By Tadias Staff
Published: Friday, September 30th, 2016
New York (TADIAS) — A nationally known diabetes and heart disease expert, Ethiopian American physician Dr. Elias Siraj, has been appointed by the Eastern Virginia Medical School (EVMS) to lead the university's diabetes program.
"Elias Siraj, MD, brings an international perspective and a special interest in improving outcomes for patients who have both cardiovascular disease and diabetes," EVMS announced. "Dr. Siraj comes to EVMS from Temple University in Philadelphia where he directed that school's diabetes program and headed the endocrinology fellowship training program, among other responsibilities. A native of Ethiopia, he was previously on the endocrinology faculty at the Cleveland Clinic."
The university said it had assistance from the commonwealth of Virginia in hiring Dr. Elias. "The school received the 2015 State Eminent Research Scholar Award, a highly competitive grant to assist in the year-long national search and recruitment process," EVMS said in a press release. "In his capacity as Professor of Internal Medicine and Chief of Endocrinology and Metabolic Disorders at EVMS, he will oversee the EVMS Strelitz Diabetes Center. He also will lead the research programs at the EVMS Sentara Cardiovascular Diabetes Center, which helps coordinate long-term care of patients with diabetes and heart problems."
Dr. Elias said he is excited about his new role. "I hope to elevate the stature and capability of the Division of Endocrine and Metabolic Disorders by growing our patient-care capabilities, enhancing our teaching programs and expanding our research activities," he said.
In addition to his professional work Dr. Elias, who graduated from Ethiopia's Gondar College of Medical Sciences in 1988, is one the founding members of the Gondar University's Alumni Steering Committee in the United States as well as an active member of the Ethiopian Diaspora medical professionals association P2P.
According to EVMS, "Dr. Siraj received his medical degree with Great Distinction and a Gold Medal from Gondar College of Medical Sciences in Ethiopia before earning his Dr. Med. Magna Cum Laude from the University of Leipzig in Germany. He completed his internal medicine residency at the University of Leipzig and at the Cleveland Clinic and then did an endocrinology fellowship at the Cleveland Clinic. Dr. Siraj is fluent in several languages."
"Dr. Siraj is an outstanding academic physician," Dr. Richard Homan, EVMS President and Provost and Dean of the School of Medicine said in a statement. "Dr. Siraj is a good fit for the EVMS role." Dr. Homan added. "He has extensive experience in patient care, education and clinical research. His background has afforded him invaluable insights into the challenges and opportunities he will face in his new role. His recruitment – in combination with the recent assessment of our diabetes experts as among the best in the nation by U.S. News & World Report – once again demonstrates the school's commitment to make a difference in the lives of people with diabetes."
The press release stated: "Dr. Siraj is involved in research and trials involving diabetes, complications of diabetes, prevention of type 1 diabetes and post-transplant diabetes as well other areas of endocrinology. He wants to attract new grants for clinical research and to collaborate with Virginia biotechnology companies and pharmaceutical companies to develop new and safer diabetes treatments. Dr. Siraj understands the critical impact that medical care can have on a community. For two decades, he has traveled regularly to his native Ethiopia, where he helped establish that nation's first endocrinology fellowship training program. He has served in various leadership roles with People to People, a U.S.-based non-governmental organization established by Ethiopian Physicians to Support Ethiopian Healthcare and Medical Education."
Dr. Elias received the Outstanding Service Award for the Promotion of Endocrine Health of an Underserved Population from the American Association of Clinical Endocrinology in 2014, and has also served as President of the Philadelphia Endocrine Society as well as being a former member of the American Board of Internal Medicine's Endocrinology Subspecialty Board. The press release notes that: Dr Elias is also "on the editorial board or a reviewer for more than a dozen professional journals. He is well published in a variety of medical journals including the New England Journal of Medicine, and he has contributed chapters to medical text books."
—
Join the conversation on Twitter and Facebook.