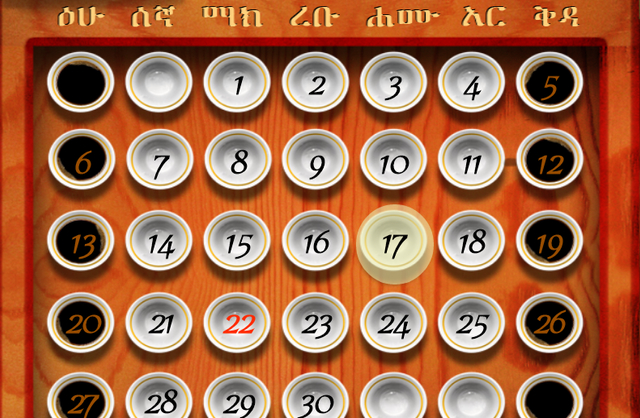 Tadias Magazine
By Tadias Staff
Published: Wednesday, October 3, 2012
New York (TADIAS) – The Australia-based designers of the Ethiopian wall calendar, Jember, have announced that their latest version comes with a mobile app for Android smartphones. The app can be downloaded from their website.
"The Jember app hosts a complete Ethiopic calendar with a full list of major and minor Ethiopian holidays and other personal event reminder functionality," says Yohannes Tafesse, one of the developers of the application. "In addition, it allows users to easily keep track of the Ethiopic date system."
"The application is also designed around various elements of the traditional Ethiopian coffee ceremony," he said.
Yohannes pointed out that the iPhone version is not yet available. "We wanted to first see how it's received on Android platforms," he said. "The plethora of devices running the Android operating system, ranging from tablets to smartphones, is our best chance for getting Jember in the hands of more people." He added: "Having said that, however, an iPhone version for Jember is inevitable."
Yohannes and his business partner, Ermyas Teshome, both of whom are residents of Melbourne, Australia, say they came up with the idea out of personal necessity.
"Living in the West means working under the Gregorian calendar system, which can leave one rather disconnected from the Ethiopian date system," Ermyas said. "This is a problem because most of the holidays, birthdays and other events of our friends and families back home are in the Ethiopian date system. For me, this has meant either forgetting the special days of loved ones or calling a few days late and in some cases a few days early, which can be just as embarrassing. So Jember really emerged as a means of solving our own problems with the date system."
"The reviews of the app are quite good so far," noted Yohannes. "We will be releasing an update to the calendar app [Version 2] by the end of this week. The update includes some of the usability enhancements requested by our existing users. We hope everyone will like it and let us know what they enjoy about using Jember and what they would like to see improved."
—–
Click here to learn more about the Jember calendar app.
Join the conversation on Facebook.