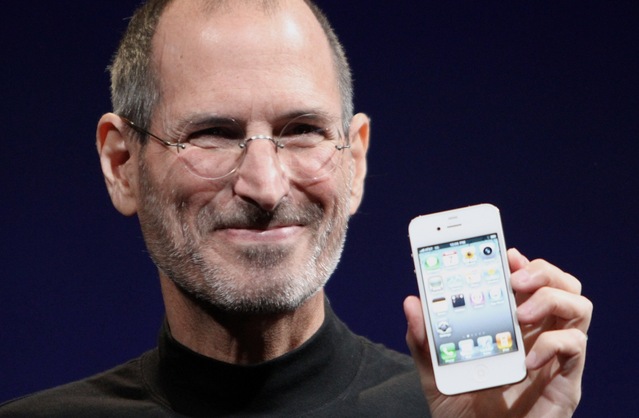 VOA News
Mike O'Sullivan | Los Angeles
October 06, 2011
Apple Computer co-founder Steve Jobs has died at age 56 after a long illness, and tributes have been pouring in from around the world. Jobs was an entrepreneur and innovator who changed several industries.
Apple chief executive Tim Cook called Jobs an amazing human being, a visionary and a creative genius. With his trademark black turtleneck shirt and jeans, Jobs was known a charismatic business leader and an innovator.
"We just try to build products we think are really wonderful and that people might want. And, sometimes we are right and sometimes we are wrong," Jobs said.
Jobs had suffered from health problems since surgery for a rare form of pancreatic cancer in 2004. He underwent a liver transplant in 2009 but returned to work. He took a leave of absence last January, his third since his health problems started, but he announced in August he was stepping down as Apple's chief executive. He stayed on as chairman of the board.
Jobs co-founded Apple with Steve Wozniak in 1976 and, after the experimental Apple I, they ushered in the age of personal computing with the Apple II. In 1984, Apple released the Macintosh, a pioneering device with a graphic interface that opened personal computing to the general public.
Media analyst Jonathan Taplin of the University of Southern California says Jobs had a keen sense of design that made successive products from the Macintosh to iPad and iPhone all successful.
"They have a very clean design that's incredibly functional and a kind of natural sense of ease of use. And that's what he always went for. I want to make this easy to use for anybody," he said.
Taplin notes that Apple, with Jobs at its helm, also changed how we listen to music with creation of the music download service iTunes.
"The music business before Apple's iTunes was a business of selling compact discs in stores. Today, there are hardly any stand-alone stores that sell compact discs because the business has moved online," he said.
Jobs was forced out of Apple in 1985 by a hostile board of directors. He bought a small production house that became Pixar Studios the following year, and Taplin says Jobs turned it into a powerhouse of animated movies before selling it to the Disney Company five years ago the greatest of American innovators.
Jobs would again take the helm at Apple in 1997, and was widely seen as the force behind the company's huge success.
Among those who offered condolences were President Barack Obama and his wife, Michelle, who said in a written statement that Jobs was "among the greatest of American innovators – brave enough to think differently, bold enough to believe he could change the world, and talented enough to do it."
Watch: Steve Jobs in his own words

Visit msnbc.com for breaking news, world news, and news about the economy