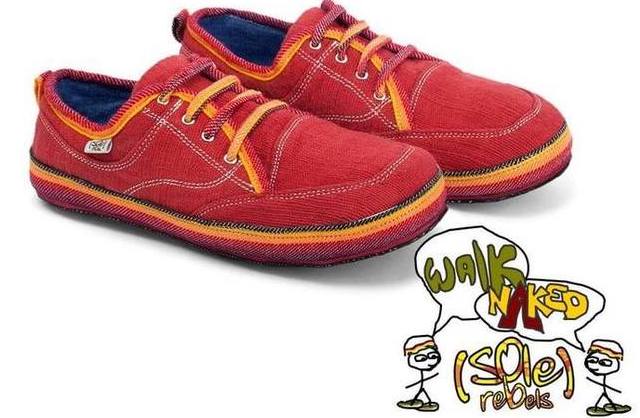 Tadias Magazine
By Tadias Staff
Updated: Monday, September 14th, 2013
New York (TADIAS) — The Ethiopian footwear company SoleRebels, known for its brand of eco-friendly shoes and sandals hand-made in Ethiopia, has won an arbitration proceeding in a domain name dispute against Toronto resident Tal Dehtiar, who had registered the URL "solerebels.com" and is the owner of Oliberte shoe company with a factory in Ethiopia.
On August 27, 2013, U.S.-based attorneys representing SoleRebels filed a complaint against the Canadian individual with the National Arbitration Forum that helps resolve domain name disputes in accordance with the Uniform Domain-Name Dispute-Resolution Policy (UDRP). The lawyer for SoleRebels (Alex P. Garens of Grossman, Tucker, Perreault & Pfleger PLLC of New Hampshire) alleges that Tal Dehtiar had hijacked the e-commerce address of his African competition. Last week, the Arbitration Forum sided with SoleRebels transferring the domain name to the Ethiopian company.
"It was with great shock and revulsion that we found that Tal Dehtiar, the owner of Oliberte, had registered the soleRebels.com domain and then redirected all web traffic to his company's website selling their shoes," Bethlehem Alemu, Founder and CEO of Sole Rebels, told Tadias Magazine. "This act was deliberate sabotage designed to hurt our company and our brand."
In response to Tadias' query about the case, Tal Dehtiar admitted that he had personally registered the SoleRebels.com domain name earlier this summer. "The website SoleRebels.com was available a few months back during a random search I did online," he told Tadias Magazine. "It was bought by me personally, not Oliberte, without any intention to harm, upset or use it against SoleRebels." Bethlehem stated that the arbitration panel has found the latter to be "false." In fact, Bethlehem said, Tal Dehtiar had visited the Sole Rebels facility in Addis Ababa as far back as 2009 in advance of launching his own shoe factory called Oliberte Limited Ethiopia Branch.
"It must be understood that Tal Dehtiar did not appear out of the blue," Bethlehem said. "He has known SoleRebels for many years prior to starting his company. The same person who illicitly registered our trademarked name as his own domain posed as a buyer so he could gain access to myself and to survey along with his staff our operations on site over a period of weeks." She added: "This latest and gravest incident, is simply the culmination of a variety of insidious acts that Oliberte has tried against us."
Dehtiar said he purchased the domain name for $500 via a 7-day auction on Godaddy.com on June 22, 2013. "If the website was so important to SoleRebels, I would have assumed they would have tried to buy it asap, but they didn't," he claimed. "Even now, if you try and look for solerebelsfootwear.com it is actually available via auction." He added: "You would think that would be a website they would try and buy asap too, and should you write about this, I'd encourage you to recommend them to buy that website, before someone gets it."
Dehtiar denied visiting the SoleRebels' factory on false pretense. "I never 'posed' as a customer," Dehtiar said. "I had a genuine interest in buying their product, but for some key reasons, it did not work out." He added: "I did end up buying and working with three other factories in Addis, which were able to produce our specific style under our brand name, which was always key to any partnership for us in Ethiopia."
However, the complaint lodged by SoleRebels with the National Arbitration Forum asserts that Tal Dehtiar has no rights or legitimate interests in the SoleRebels' domain name because he has no rights in the SoleRebels trademark. The complainant (SoleRebels' parent company BOSTEX, PLC) further argues that Tal Dehtiar is not making a legitimate noncommercial or fair use of SoleRebels' domain.
"Registering and using a domain name that is your competitor's registered trademark for the sole purpose of redirecting their traffic to your website is about as low down as it gets," Bethlehem said.
Bethlehem emphasized that Tal Dehtiar was very much aware that soleRebels is a globally registered trademark in the footwear market. "This deliberate act therefore not only violates the Anti Cybersquatting Consumer Protection Act and the Lanham Act, but more fundamentally it also violated the fair trade standards regarding IP and Anti-competitive actions designed to harm another businesses," she said. "For Ethiopia and Africa to truly prosper, creating potent homegrown globally successful brands is key and protecting those brands is an equally crucial piece of that endeavor."
In explaining his side of the story Dehtiar shared: "At any rate, once we heard form SoleRebels that they were not happy, I tried 3-4 times to contact them and even their business agent in Canada directly to give them the website at our cost and to close this matter." He indicated that the dispute had escalated into a Facebook fight. "They refused to respond and preferred to use lawyers," he said.
The National Arbitration Forum's decision on this matter is final and it found that Tal Dehtiar registered and used SoleRebel.com in bad faith.
"Today soleRebels showed the world just how serious we are about protecting our business name," Bethlehem said. "And in the process sent a very clear warning message that we will use all the legal leverage at our disposal to stop anyone who tries to mis-appropriate our Intellectual Property. It isn't the first time someone has tried to threaten our Intellectual Property and we know it won't be the last. But at least the record is clear – mess with our brand and we will take action against you. And win."
—
Related:
National Arbitration Forum Decision: BOSTEX, PLC v. Tal Dehtiar
Join the conversation on Twitter and Facebook.