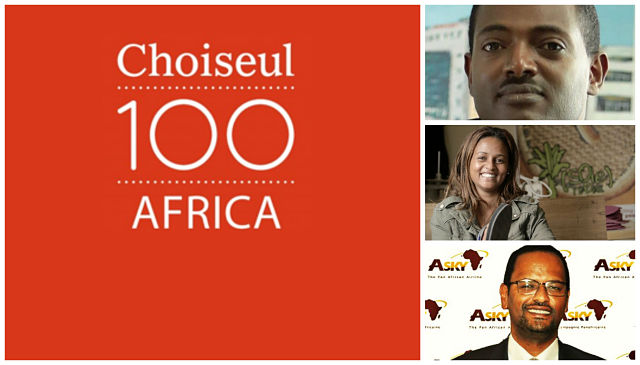 Tadias Magazine
By Tadias Staff
Published: Tuesday, October 13th, 2015
New York (TADIAS) — For the second year in a row the Paris-based Institut Choiseul has released its influential ranking of young African business leaders, the Choiseul 100 Africa, dedicated to identifying "those who carry the economic growth and development of Africa, and embody the renewal of the continent."
The 2015 list includes three Ethiopian CEOs: Ermias Eshetu (Ethiopia Commodity Exchange); Bethlehem Tilahun Alemu (SoleRebels); and Henok Teferra (ASKY Airlines).
Beyond those three Chief Executive Officers other young Ethiopian leaders appear in the Choiseul 200: Sara Menker (Gro Ventures); Adam Abate (Apposit); Rakeb Abebe (GAWT International Business); and Alpha Mengistu (Diageo Ethiopie).
"The Choiseul 100 Africa is an original annual study" says the press release from the French research institution that studies geoeconomics and international relations. "It identifies and ranks young African leaders of 40 years old and under who will play a major role in the development of Africa in the near future." The list includes "growing business leaders, successful entrepreneurs, [and] investors" who "embody the dynamism and renewal of a whole continent and carry the hopes of an entire generation."
In a statement the President of Institut Choiseul, Pascal Lorot, commented on the growing capital flows towards Africa, which last year reached an estimated 80 billion U.S. dollars. "The figure should rise up to 100 billion in 2015," Lorot said. "This remarkable dynamic is linked to the emergence of a group of young economic leaders, well-trained, open to the world and connected to major economic and informal flows worldwide, grown out of globalization."
The press release added: "In response to new needs new businesses emerge. Finance, NICT and service sector are among the most represented sectors."
The emergence of women in influential positions is also another topic mentioned in the new list that names 60 female business leaders in the current edition of the Choiseul 100 Africa.
Click here to read the full list: Choiseul 100 Africa 2015 »
—
Join the conversation on Twitter and Facebook.