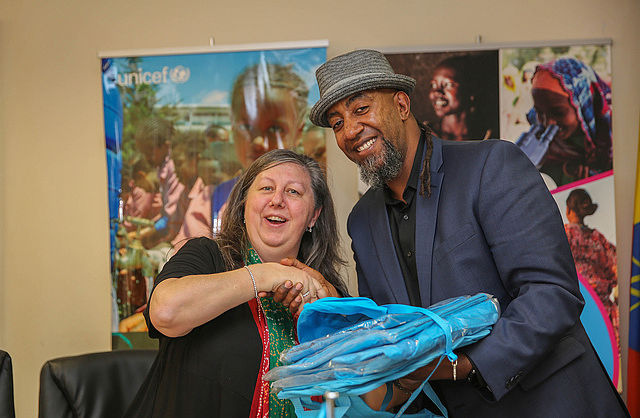 Tadias Magazine
By Tadias Staff
Published: Wednesday, October 14th, 2015
New York (TADIAS) — Following in the footsteps of Aster Aweke, Abelone Melesse and Hannah Godefa, U.S.-based Ethiopian musician Thomas Gobena (Tommy T) has been appointed as a UNICEF National Ambassador to Ethiopia.
At a signing ceremony held on Wednesday at the UNICEF office in Addis Ababa Patrizia DiGiovanni, Officer in Charge of UNICEF Ethiopia, said: "Tommy's ambassadorship has come at a time when UNICEF Ethiopia is seeking to engage with a wide range of the diaspora groups to get their understanding and support for children's issues in Ethiopia. Reaching out to this group is critical as they can relay information fast to their communities and have also a strong awareness raising capacity."
"A U.S. Citizen of Ethiopian descent, Tommy moved to Washington D.C. at the age of sixteen, and is a bassist for Gogol Bordello, a Gypsy punk band, since 2006," UNICEF said in a press release.
"Tommy T. has been an advocate for UNICEF's work since 2014 and is keen on empowering youth. Thus, he has participated in a Public Service Announcement (PSA) on HIV/AIDS awareness entitled "Your life; Your decision" produced by UNICEF in collaboration with the Federal Ministry of Health and UNAIDS."
"I hope I will be an Ambassador who will awaken hope, inspire action, and nurture kindness and respect to all," Tommy added speaking of his new title. "I hope with all my heart that my modest contribution will be inspiring to as many youth as possible because inspiration fuels hope."
Watch: Musician Thomas "Tommy T" Gobena — "My life My decision" campaign (UNICEF Ethiopia)
—
Related:
Tadias Interview with Tommy T (Thomas Gobena)
Join the conversation on Twitter and Facebook.