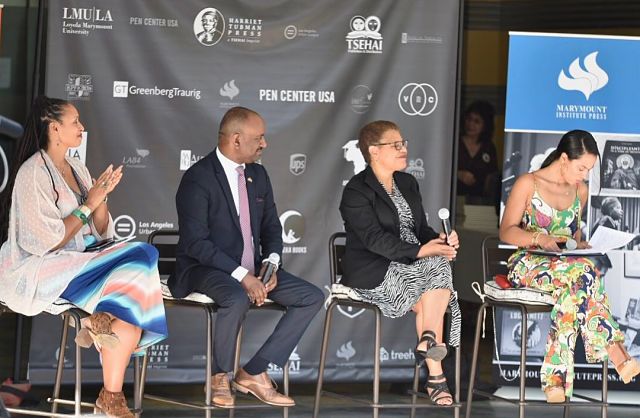 Tadias Magazine
By Tadias Staff
Updated: October 15th, 2017
New York (TADIAS) — TSEHAI Publishers celebrates its twentieth anniversary this month along with the launch of the first book under its new imprint, Harriet Tubman Press entitled Voices from Leimert Park Redux.
Founded by Ethiopian American publisher Elias Wondimu, TSEHAI Publishers — which is located at Loyola Marymount University (LMU) in Los Angeles — is the only African or African-American owned press housed in a U.S. university (Howard University Press closed in 2011). "The launch of this historic imprint boldly reinforces the necessity and value of giving place for our voices in the national and global discourse on race, culture, the arts and so many more important facets of our collective humanity," says Elias.
The book launch event was held in front of the Vision Theatre in Leimert Park on Saturday, October 14th sponsored by PEN Center USA and LA Review of Books. The program included live readings by the poets featured in the inaugural publication highlighting the "diverse voices of Los Angeles" and speeches by Congresswoman Karen Bass, Supervisor Mark Ridley Thomas, CNN and NPR analyst Angela Rye, as well as Elias Wondimu and Shonda Buchanan, Editor of the Harriet Tubman Press and the press' first book Voices from Leimert Park Redux.
"It is going to be a great continuation of LMU and TSEHAI's Harriet Tubman Press' engagement in the Leimert Park Community," Elias added.
—
Click here for updates on Facebook.
Join the conversation on Twitter and Facebook.