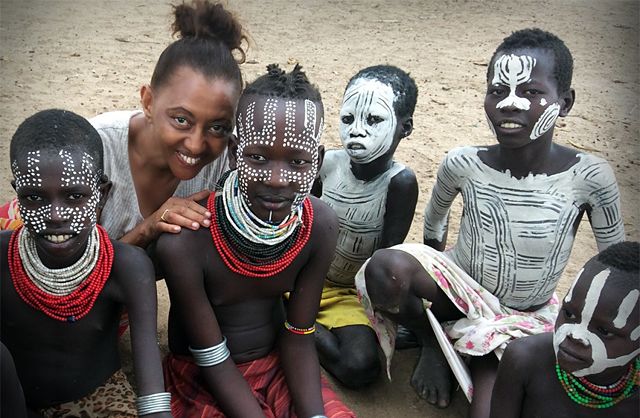 Tadias Magazine
By Tadias Staff
October 16th, 2017
New York (TADIAS) — Ethiopian-born designer Manale Dagnew spent several years in New York and Paris successfully creating couture wedding gowns and evening wear prior to returning to Ethiopia and "rediscovering the beauty of her cultural heritage." Soon thereafter she designed original accessories including scarves, wraps, neckties and pocket squares celebrating the diversity of her native country with a philanthropic purpose of giving 10 percent of all sales to educational initiatives for girls in Ethiopia.
"The collection's designs are inspired by the practice of the North's traditional weaving and the South's intricate body painting," says Manale. "More than just raising awareness of African art and culture from my homeland, I want to make a real difference and positively impact education for girls in rural regions of Ethiopia."
"During the initial phases of this effort, Manale will work with established schools and learning centers to improve the lives of local children and their families," the press release adds. "Once a revenue stream is more established, the goal is to start new schools for primary education and also training academies for graduates to learn job skills in the Belessa, Gayent, and Addis Zemen regions."
—
Learn more about Manale Dagnew's designs at www.manaleinternational.com.
Join the conversation on Twitter and Facebook.