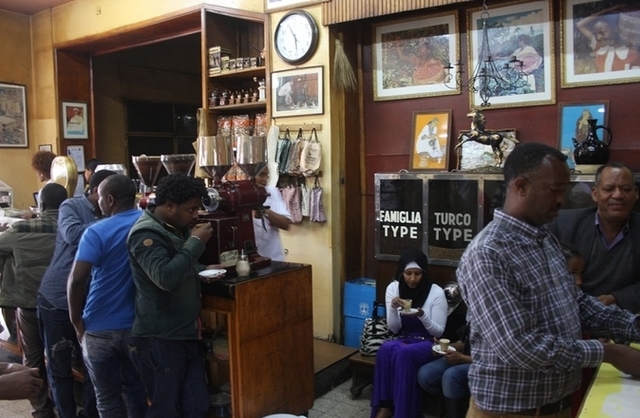 By James Jeffrey
October 20, 2014
ADDIS ABABA, Ethiopia — Eighteen-year-old Aster Endale quickly gives the coffee cups a rinse before putting them back into her basket and picking up a bag with canisters of coffee. Then she crosses the road, weaving between traffic, to find her next customers.
Time wasted is coffee not poured — and money not earned — in the Ethiopian capital, where the humble cup of coffee is contributing to economic advancement starting at the lowest level and finishing at the counters of upmarket gourmet coffee houses in Tokyo and beyond.
Coffee has long played a central role in Ethiopia's macroeconomic fortunes as the country's largest export earner. In 2012 coffee exports generated more than $800 million, a figure expected to exceed $1 billion by 2015.
But besides the grand figures in annual economic reports, the simple act of selling a cup of cheap coffee plays a significant socioeconomic role for many trying to carve out a better life in Ethiopia. This is especially true amid the hubbub of a rapidly changing Addis Ababa, where a hierarchy of diverse coffee services by various practitioners exists.
At the bottom are women like Endale, roaming the streets carrying flasks in baskets full of tiny porcelain cups and saucers, dispensing coffee for three Ethiopian birr ($0.15) a cup. Next in line are the traditional coffee stands, known as jeubeuna bunna, outside bars and restaurants serving coffee for five birr ($0.25) a cup. Then there are the established coffeehouses, where a cup costs upward of 10 birr ($0.50).
"Everyone wants to graduate to the next level," said Wondwossen Meshesha, operations manager for Tomoca, one of Addis' original coffeehouses, inaugurated in 1953 by Emperor Haile Selassie.
For Tomoca, the next level up means securing foreign partners to help it export more roasted coffee to new international markets — doubling the revenue of raw beans, traditionally the bulk of Ethiopia's coffee exports — and even opening cafes abroad.
Read more »
—
Related:
Boom Times for Ethiopia's Coffee Shops (BBC)
Blessed Coffee Wins Start Up Africa Entrepreneurship of the Year Award (TADIAS)
Join the conversation on Twitter and Facebook.