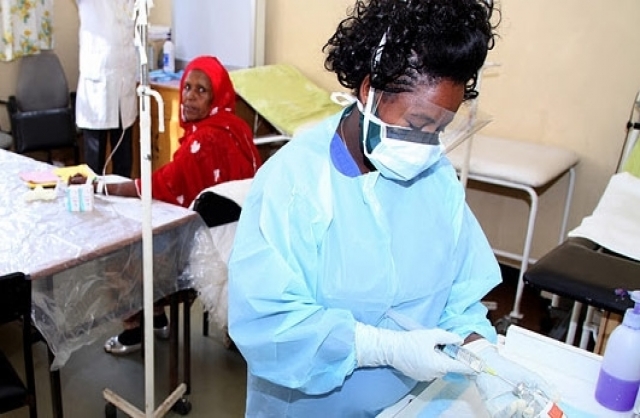 Tadias Magazine
By Tadias Staff
Updated: Monday, October 22, 2012
New York (TADIAS) – While October is designated as international Breast Cancer Awareness Month, cancer screening in Ethiopia is almost nonexistent, says cancer survivor Mrs. Tsige Birru-Benti, who is one of the founders of BCE (Battling Cancer in Ethiopia), a U.K. based charity organization that promotes early cancer screening in Ethiopia as well as raises funds for the Black Lion Hospital Cancer Center in Addis Ababa.
"The short term objective is to equip the Oncology Unit of the Black Lion Hospital (BLH) by raising fund to buy CT Simulators that benefit cancer treatment planning," Tsige said. "The long term objective is to work with other institutions in Ethiopia to create awareness among the urban and rural population regarding the diagnosis and treatment of cancer."
According to Tsige the Oncology Unit at BLH currently has approximately 6,000 cancer patients, with only 3 specialist doctors. "Every year the unit takes at least 2,000 newly diagnosed patients but the waiting time to start treatment is usually more than 6 months," she said. "In the meantime a large number of patients die without any help or any source of pain relief."
As to her own battle with the disease, Tsige shared: "Being a cancer survivor, I can testify to the suffering that I went through and what it means to be relieved from pain and the importance of proper medical care. In January 2010, I was diagnosed with Lymphoma B-Cell grade 2 cancer. Being in London, where facilities are in place my treatment was on the fast track and commenced within a month. I went through 6 cycles of chemotherapy and 2 cycles of Rituximab. At the end of July 2010 I had finished all my medical treatment and thank God now I am enjoying good health once again."
Tsige said her wish is for all cancer patients in Ethiopia to have the same access to professional medical care as she did during her illness in England. "There is a lack of awareness about cancer in Ethiopia compared to other chronic diseases that are widely publicized. Therefore, when people begin to develop symptoms, more often than not, they tend to resort to traditional medicine."
Regarding BCE, she added: "We plan to knock on every door to spread cancer awareness in Ethiopia and raise funds to reach our goal. As the Amharic saying goes 'hamsa lomi leand sew shekmu new lehamsa sew gen getu new' (50 lemons are a load for one individual but for 50 individuals each lemon is like an accessory). This is what is required of Ethiopians worldwide, to be united as hand-to-a-glove for this project."
—
We commend Tsige on her initiative for better cancer screening and services and encourage you to visit the BCE website to learn more.