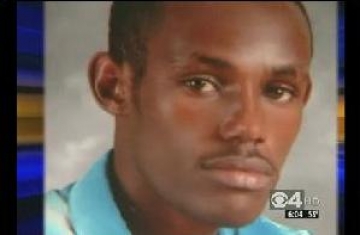 Above: Keyru Lolo, 24, an immigrant from Ethiopia, was shot
and killed last week in Denver, Colorado.

DENVER (CBS4)
Oct 23, 2009 4:28 pm US/Mountain
Police in Denver are asking the community for help in solving the murder of an Ethiopian immigrant. Keyru Lolo, 24, was shot and killed last week in a Lowry neighborhood.
Friday, detectives asked Lolo's family and friends to canvass the neighborhood where he was shot. They handed out flyers in hopes that a witness will come forward.
Police have no suspects and do not believe Lolo's shooting was racially motivated.
Officers were called to the Garden Court Community apartment building at 1150 Syracuse Street just before 9 p.m. Oct. 16, 2009, after getting reports of numerous shots being fired. When they arrived, officers found Lolo had been shot and killed in the building's courtyard.
Lolo was taken to Denver Health Medical Center where he was pronounced dead.
Lolo is originally from Ethiopia and has lived in the Denver area a short time.
His family said he has no enemies. They say Lolo was visiting family members in the complex and don't know why he had gone outside or where he was going.
"He didn't have any enemies that we know of, he was a very vibrant guy. He wanted to go to school, and moved here trying to make his life better," said Khalifa Jallo, Lolo's friend.
Lolo's family has increased the reward leading to an arrest in his death, from $2,000 to $10,000.
Click here for video from DENVER (CBS4).
Anyone with any information is asked to call Denver police at (720) 913-2000 or Crime Stoppers at (720) 913-STOP (7867).