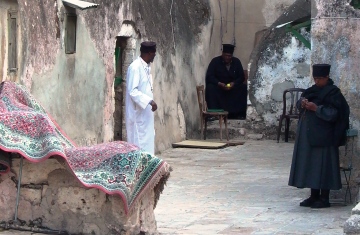 Above photo: Ethiopian monks on the roof of Christianity's
holiest shrine in Jerusalem (Creative Commons Attribution).
More photos at Tadias Magazine
History of Ethiopian Church Presence in Jerusalem
By MATTI FRIEDMAN, Associated Press Writer
Saturday, October 25, 2008
JERUSALEM – Two rival monks are posted at all times in a rooftop courtyard at the site of Jesus' crucifixion: a bearded Copt in a black robe and an Ethiopian sunning himself on a wooden chair, studiously ignoring each other as they fight over the same sliver of sacred space.
For decades, Coptic and Ethiopian Christians have been fighting over the Deir el-Sultan monastery, which sits atop a chapel at the ancient Church of the Holy Sepulcher. The monastery is little more than a cluster of dilapidated rooms and a passageway divided into two incense-filled chapels, an architectural afterthought alongside the Holy Sepulcher's better-known features.
And yet Deir el-Sultan has become the subject of a feud that has gone far beyond the walls of Jerusalem's Old City. The Ethiopians control the site, but the Egypt-based Copts say they own it and see the Ethiopians as illegal squatters.
The quarrel has erupted into brawls — in 2002, when the Coptic monk moved his chair into the shade and too close to the Ethiopians, a dozen people were hurt in the ensuing melee. And today, the Ethiopians claim the fight could result in the monastery's collapse and even in damage to other parts of the church, one of the holiest sites in Christendom.
Since the 1970s, the Israeli government has refused to allow renovations or significant repairs at the disputed monastery until the Ethiopians and the Copts come to terms. That hasn't happened, and the Ethiopian Church says the years of neglect have put the structure in danger. The Copts suggest the Ethiopians are merely trying to further cement their hold. Read More.
Related story from Tadias Magazine
History of Ethiopian Church Presence in Jerusalem