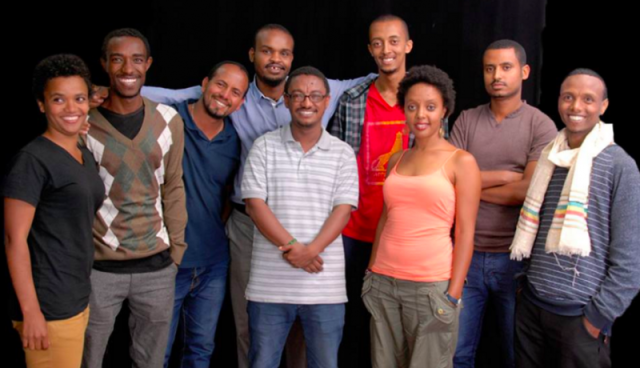 This post was collectively written by Zone9 and translated from Amharic to English by Endalk Chala.
Our release was as surprising as our detention. Five of us were released after our charges were "withdrawn" in July. The remaining four of us were released in October because we were acquitted (save for the appeal against our acquittal). Still one member of our group, Befeqadu, was released on bail and must defend himself later this year in December. Even though we were released in different circumstances, one thing makes all of us similar – our strong belief that we didn't deserve even a single day of arrest.
Yes, it is good to be released, but we were arrested undeservedly. All we did was write and strive for the rule of law because we want to see the improvement of our country and the lives of its citizens. However, writing and dreaming for the better of our nation got us detained, harassed, tortured and exiled. Undeservedly.
It makes us happy when we hear people say they are inspired by our story. But it also makes us sad when we learn people are scared to write because they have seen what we have gone through for our writings. Our incarceration makes us experience happiness and grief at the same time. The bottom line is that it is good to know we have inspired people while it is saddening that people have left the public discourse as a result of our detention. It is sad to know that our detention has had a chilling effect on public discourse.
Read more at Globalvoices.org »
—
Related:
Zone 9 Bloggers Acquitted of Terrorism
Ethiopian Bloggers Cleared of Terrorism Charges
Zone 9 Bloggers Recognized With International Press Freedom Awards
International Press Freedom Awards Goes to Zone 9 Bloggers from Ethiopia
Join the conversation on Twitter and Facebook.