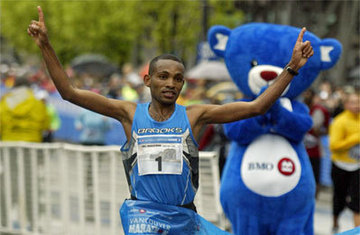 By Liben Eabisa
New York – Kassahun Kabiso (above), the top New Yorker to finish the race in 2003, 2004, and 2006, will participate in the 38th ING New York City Marathon on November 4, 2007.
The race through New York's five boroughs (Staten Island, Brooklyn, Queens, the Bronx, and Manhattan), unites dozens of culturally and ethnically diverse neighborhoods, passing over five bridges, and finishing up at Tavern on the Green in Central Park.
Kabiso, 23, who was profiled by the New York Times two years ago, is from Awassa, a lakeshore town about 130 miles south of Addis Ababa. He left behind 16 brothers and sisters in 2002, and eventually ended up at the "Mecca for African runners in New York: the Westchester Track Club." His fellow Ethio-New Yorkers and running mates from the Bronx include, Worku Beyi, 20, and Demesse Tefera, 24.
"The Africans come, they arrive, they fall from the sky," Coach Mike Barnow, founder of the club, told the New York Times.
"Who knows how these runners get here, but they get here."
Gete Wami poised to take home $500,000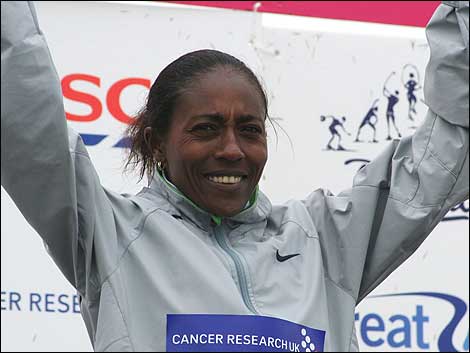 Photo: BBC
The Ethiopian headliner at this year's event is the reigning Berlin-Marathon champion Gete Wami, who is poised to take home $500,000 champion's prize purse that will be awarded to the winner of the inaugural 2006–7 World Marathon Majors series, according to ING NYC Marathon's website.
Currently ranked second in the WMM points standings behind Latvian favorite Jeļena Prokopčuka (Winner of New York City Marathon in 2005 and 2006) , Wami will have a chance to vault into first place in New York without winning gold, that is if Prokopčuka does not finish first.
Wami, a three-time Olympic medalist on the track, has a marathon personal best of 2:21:34, set in Berlin in 2006. She placed second at the 2007 Flora London Marathon and was seventh in New York in 2005, her only previous appearance in the race.
The ING New York City Marathon is one of the world's great road races, drawing more than 90,000 applicants. The race attracts many world-class professional athletes, not only for the more than $600,000 in prize money, but also for the chance to excel in the media capital of the world before two million cheering spectators and 315 million worldwide television viewers.
Source: ING New York City Marathon and the New York Times