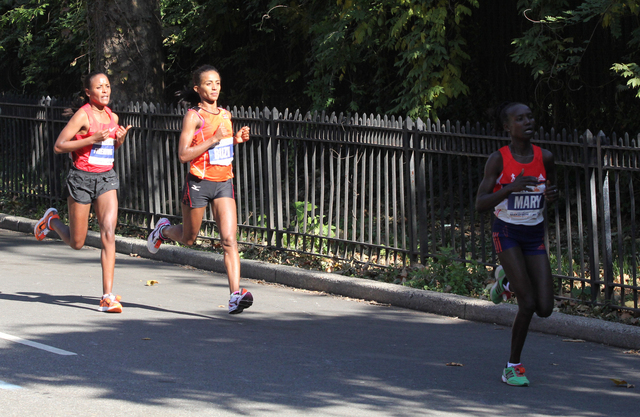 Nov. 04, 2012
On Friday evening, with slightly more than 36 hours to go before the 2012 ING New York City Marathon, Mayor Michael Bloomberg canceled the annual event, amid criticisms the runners would be siphoning off valuable resources needed in the city's recovery from Superstorm Sandy. But the decision hardly discouraged a group of nearly 1,300 runners from boarding the Staten Island Ferry toward the starting line. Far from anticipating a grueling 26.2-mile run, however, these would-be racers ran their own marathon, carrying garbage bags and backpacks full of donated supplies ranging from blankets to Home Depot gift cards that they delivered to the destroyed homes of Staten Island residents.
"I've run the marathon three times, and there was an odd familiarity getting on the Staten Island Ferry this morning with a group of runners for a completely different reason," says runner and New Yorker Jon Bennion. "It was fascinating, the anxiety and jitters were replaced by an overwhelming sense of community."
Read more at Time magazine.
–
Related:
Runners Embrace Chance to Help Residents Recover (NYT)
WATCH:

Visit NBCNews.com for breaking news, world news, and news about the economy
—
After Days of Pressure, Marathon Is Off
By KEN BELSON (NYT)
Published: November 2, 2012
New York – After days of intensifying pressure from runners, politicians and the general public to cancel the New York City Marathon in the wake of Hurricane Sandy, city officials and the event's organizers decided Friday afternoon to cancel the race.
The move is historic — the marathon has been held every year since 1970, including the race in 2001 held two months after the 9/11 terrorist attacks — but seemed inevitable as opposition to the marathon swelled. Critics said that it was in poor taste to hold a foot race through the five boroughs while so many people in the area are still suffering from the storm's damages, and that city services should focus on storm relief, not the marathon. Proponents of the marathon — notably Mayor Michael R. Bloomberg and Mary Wittenberg, director of the marathon — said the race would provide a needed morale boost, as well as an economic one.
Read more at The New York Times.
–
WATCH: After uproar, marathon canceled (NBC News)

Visit NBCNews.com for breaking news, world news, and news about the economy
Related:
NYC Marathon canceled amid criticism (USA Today)