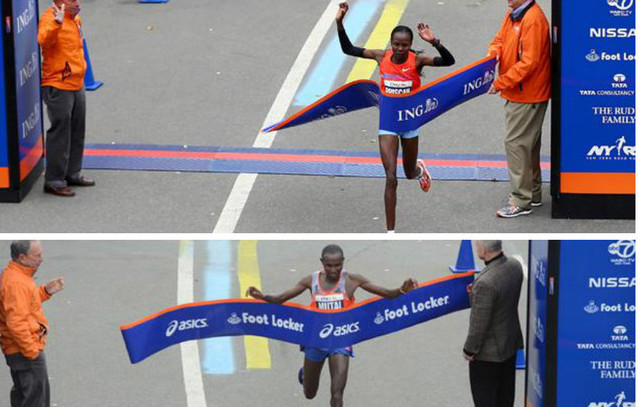 Priscah Jeptoo and Geoffrey Mutai have won the women's and men's titles in the New York City Marathon in its triumphant return after a 1-year hiatus.
The two Kenyans waved their flag in celebration while thousands cheered in Central Park.
Jeptoo, 29, overtook Bronx resident Buzunesh Deba with an impressive final kick and sped across the finish line to thunderous applause, clocking in at 2 hours, 25 minutes and 7 seconds for the grueling 26.2-mile race.
Deba, 26, finished second for the second straight time, having claimed No. 2 in 2011 as well.
Jeptoo trailed the Ethiopian-born Deba by more than three minutes halfway through. But she made her move as the race entered Manhattan and passed Deba with more than two miles to go.
New York Resident Buzunesh Deba of Ethiopia Finishes Second in the Women's Race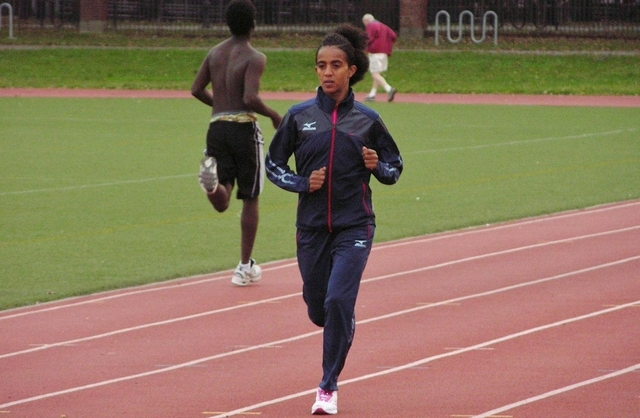 File Photo: Buzunesh Deba of Ethiopia training in her Bronx neighborhood in New York City. (Photo by Jason Jett for Tadias Magazine).
Tadias Magazine
News Update
Sunday, November 3rd, 2013
New York (TADIAS) — New York-based Ethiopian Buzunesh Deba repeated her 2011 record on Sunday, finishing second at the 2013 ING New York City Marathon. Priscah Jeptoo of Kenya won the women's race with a time of 2:25:07 while her fellow countryman Geoffrey Mutai won the men's race in 2:08:24 time. He was followed by Ethiopia's Tsegaye Kebede and South African long-distance runner Lusapho April. The third place finisher in the women's competition was Jelena Prokopcuka of Latvia.
Below are the results as announced via Twitter by ING NYC Marathon. Stay tuned for updates.
Women's podium: Priscah Jeptoo, KEN, 2:25:07 Buzunesh Deba, ETH, 2:25:46 Jelena Prokopcuka, LAT, 2:27:47

— The INGNYC Marathon (@INGNYCMarathon) November 3, 2013
Men's podium: Geoffrey Mutai , KEN, 2:08:24 Tsegaye Kebede, ETH, 2:09:16 Lusapho April, RSA, 2:09:45

— The INGNYC Marathon (@INGNYCMarathon) November 3, 2013

—
Top 5 Women To Watch At 2013 NYC Marathon on Sunday (By Competitor.com)
It's impossible to count on two hands the number of women with sub-2:30 marathon personal bests on the starting line of this Sunday's ING New York City Marathon. What does this mean? There's potential for fireworks.
Reigning champion Firehiwot Dado of Ethiopia returns as does former champion and two-time reigning world champion Edna Kiplagat of Kenya. London Marathon champion and Olympic silver medalist Priscah Keptoo will also be in the hunt for victory as will New York-based Ethiopian Buzunesh Deba, who finished second in New York in 2011. Sub-2:24 runners Valeria Straneo of Italy, Jelena Prokopcuka (two-time NYC Marathon champion) and Risa Shigetomo of Japan also figure to be in the mix, along with host of other mid-to-high 2:20 women who are all hoping for a breakthrough.
Here's a look at the top-5 international women to watch in this year's race.
Read more.
—
Related:
Top-5 International Men To Watch At 2013 New York City Marathon
Watch: Firehiwot Dado & Buzunesh Deba Take Top-Two Spots at 2011 NYC Marathon

Watch: Homecoming Reception For New York Marathon Winners at Queen of Sheba Restaurant

—
Join the conversation on Twitter and Facebook.