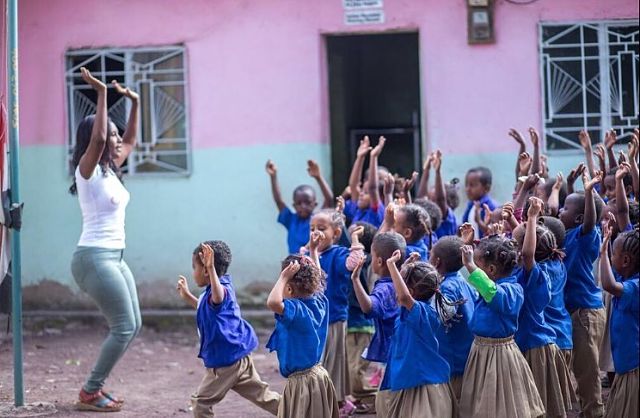 Tadias Magazine
By Tadias Staff
Published: November 3rd, 2018
Seeds of Africa Benefit Helps Innovative School Program in Adama, Ethiopia
New York (TADIAS) — The Seeds of Africa Foundation has announced that it will hold its fifth Annual Benefit on November 7th in New York City. The foundation, which was established ten years ago by former Miss Ethiopia, Atti Worku, runs a school with hundreds of students alongside community-based programs for their families in Atti's hometown of Adama, Ethiopia.
"We began in 2008 as an after-school program, and have since grown into a full-time school that serves Pre-K to 4th grade students, and a community development program that serves their mothers and other female guardians," Seeds of Africa notes on its website. "We move beyond the traditional aid model by shifting from mere relief efforts, to providing students, families, and communities with the resources and skills they need to support themselves and find local solutions to fight poverty, increase civic participation, and enhance community re-investment."
According to the press release the 2018 benefit will feature their #FixTheFacts campaign demonstrating "how Seeds of Africa is addressing and meeting global development goals at a local level in Ethiopia."
"This year's Seeds of Africa Annual Benefit is themed "Cocktail and Cloth" in celebration of the richness and diversity of African textiles," the press release adds. "Join us and over 250 Seeds of Africa supporters for cocktails, hors d'oeuvres, entertainment by DJ mOma, DJ AQ and the Asase Yaa School of the Arts, and special presentations of our work and its impact in Ethiopia. Some notable guests from last year include fashion designer Maxwell Osborne, supermodel Aamito Lagum, and Monaco royal Pauline Ducruet, who are all members of our host committee this year. Watch the 2017 Annual Benefit video here."
—
If You Go:
Seeds of Africa Annual Benefit
November 7, 2018 from 7:00 pm – 10:00
Town Stages
221 W. Broadway
New York, NY 10013
You may purchase tickets for the event here.
Learn more about Seeds of Africa Foundation
Join the conversation on Twitter and Facebook.