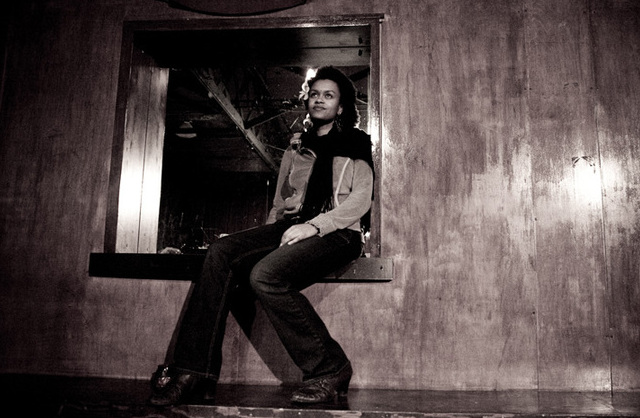 Tadias Magazine
By Tadias Staff
Published: Saturday, November 5th, 2011
New York (TADIAS) – In a recent interview with PBS, Ethiopian-American Musician Meklit Hadero contemplated the various meanings that she came across when researching her name. "My father is from the south of Ethiopia and Hadero means milk," she said. "But once when I was in college I had a friend look up in a Geez-Amharic dictionary. Geez is the ancient language of Ethiopia and Meklit is a Geez word. He looks it up in the dictionary and he said 'oh, it means one who knows the balance of things.'"
Like the meaning of her name Meklit's music is a balance of various cultures: American jazz, Ethiopian classics, and sounds from the vibrant San Francisco's art scene — all held together with her eloquent poetry. Meklit, who left Ethiopia when she was one year old, grew up in New York and graduated from Yale University with a B.A. in Political Science before settling in San Francisco where she currently resides. She has been compared to Billie Holiday, Tracy Chapman and Joni Mitchell. But her creative renditions of the traditional Ethiopian song Abbay Mado is as original as her piece entitled People of Movement, a musical tribute to refugees worldwide.
"At the moment, I'm finishing up two new collaborative albums, both set for release early in 2012 on San Francisco's Porto Franco Records," Meklit tells Tadias Magazine. She is currently in Ethiopia. "I came here to inaugurate UN Women's campaign for gender equity with a free concert at the UN compound in Addis, as well as to perform at and attend the African Leadership Network Conference," she said. "It's always wonderful to be in Addis."
Describing her upcoming albums Meklit said: "The first is with two Arba Minch Collective members and Ethiopian-American Emcees Gabriel Teodros and Burntface. We were all in Ethiopia together in May 2011, where we played in the town square of Harrar, at the foot of the castles in Gondar, and in Addis Ababa. I've also got an album coming out with Oakland soul singer Quinn DeVeaux, exploring soul interpretations of indie-rock and art rock songs, and really highlighting the soul roots of that music."
The Ethiopian-American group's name is CopperWire and the album is called Earthbound. "It uses concepts of outer space and intergalactic distances to unravel ideas around diaspora, separation, and the longing for home," she said. "We're all so excited about how the music turned out."
Also, last week, it was announced that Meklit will be a 2012 TED Senior Fellow. "I'm so thrilled about that," she added. "Folks can always keep in touch with me on Facebook and Twitter."
—
Watch: "Quick Hits" Highlight of Meklit Hadero's "Leaving Soon" (PBS/Sound Tracks)

Watch Meklit Hadero Performs "Leaving Soon" on PBS. See more from Sound Tracks.
Watch: "Quick Hits" Interview with Meklit Hadero on PBS (Sound Tracks)

Watch "Quick Hits" Interview with Meklit Hadero on PBS. See more from Sound Tracks.