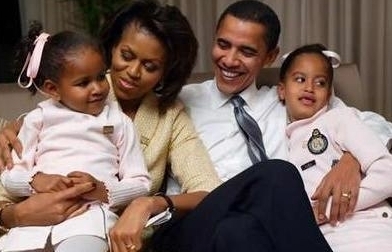 By Staff Writer
New York – U.S. Senator Barack Obama's Kenyan grandmother told Reuters that her grandson is "full of surprises" and will come back from defeat in New Hampshire's primary to become the first black U.S. president.
"I know my son will be number one because he is very bright," Obama's grandmother said from Kenya, where a contested election has led to riots. "He keeps a lot of secrets and is full of surprises. I am very confident he will win the race and become president."
Just a week ago, Senator Barack Obama's commanding victory in Iowa grabbed the attention of the world, and it seemed that Americans were being swept away by Obama's promise of change.
Obama's dramatic triumph has fired the imagination of Americans of all stripes and political beliefs. Whites, African Americans, Asians, Latinos, Native Americans – men and women, young and old – Democrats, Independents and Republicans are all beginning to think out loud that maybe – just maybe- we might be ready for the first black President.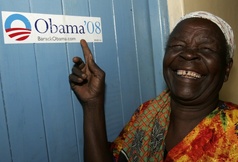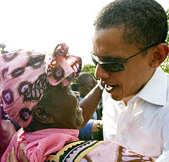 Left – Obama's Kenyan grandmother. Right – Senator Barack Obama meets his grandmother Sarah Hussein Obama at his father's house in Nyongoma Kogelo village, western Kenya, Saturday, Aug. 26, 2006. (AP Photo)
Even the Kenyans downsized their violence to cheer for Obama. According to Time Magazine, one of the more remarkable stories of the Obama campaign has been playing out behind the scenes as Obama has been working to calm things down in his grandmother's homeland, where a disagreement over ballots have led to riots and instability.
Obama called Secretary of State Condoleezza Rice On January 1, the day after violence rocked the Kibera slum in Nairobi, where hundreds have died in rioting over disputed presidential elections. Rice returned the call the same day and Obama spoke to her on the road from Sioux City to Council Bluffs, Iowa. She asked him to tape a Voice of America message.
The Kenyans apparently got the message. Presidential challenger Raila Odinga, who says President Mwai Kibaki rigged polls to win re-election, was quick to claim that Obama was his cousin. But, Obama's uncle made a slight correction. "Odinga's mother came from this area", he told the press. "so it is normal for us to talk about cousins. But he is not a blood relative."
Obama's father was born and raised in a small village in Kenya, where he grew up herding goats with his own father, who was a domestic servant to the British. Obama Senior later won a scholarship that allowed him to leave Kenya and pursue his education in America at the University of Hawaii. It was there, during their school years, where Obama's parents met. His mother was also a student there. The two separated and Obama's father eventually returned to Kenya, where he worked as a government economist until he died in a car crash in 1982. Obama grew up with his mother in Hawaii, and for a few years in Indonesia. Later, he moved to New York, where he graduated from Columbia University in 1983.
"Of course, it's not just in Kenya where Obama has cousins in high places", writes Joshua Keating on a blog by the editors of Foren Policy. "Vice President Dick Cheney is also a distant cousin of Obama, according to his wife Lynne." "There is always a black sheep in the family," Obama joked at a recent campaign speech. "It doesn't help that you put my cousin, Dick Cheney, in charge of energy policy."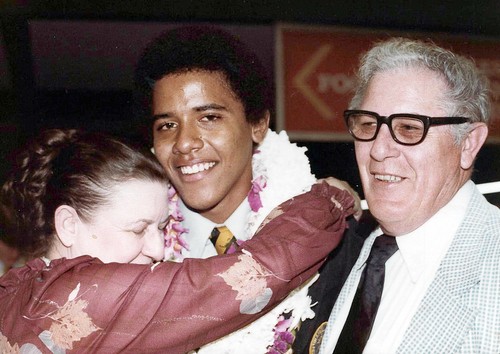 Obama is hugged by his American grandmother Madelyn during high school graduation ceremonies. His grandfather is at right. Source: obamabarack.blogspot.com
And what do Ethiopian Americans think about all this? Meaza Siraj from Minnesota posted the following description on the Ethiopians for Obama, a community blog on the Obama '08 official campaign website: "More than 2000 people were able to attend in this cold winter weather… when it comes to Barack, no excuse is good enough to stay behind. His vision to this country is something you wouldn't miss. His dream is the people's dream. His campaign is a movement for change."
"With a ballot, not a bullet, Iowans took a shot at the status quo and delivered a might blow for change—a shot that is being heard around the world today," writes another supporter.
Under the headline Why I am voting for Obama?, a blogger, with the alias VA4Obama, on the Ethiopians for Obama site shares his enthusiasm: "While there are some offering immeasurable experience in this art of scorched earth combat, Barack Obama offers a chance to break free from the experience of discontent and replace it with the novelty of hope…"
And back at home in our neighborhood….people respect the Clintons here in Harlem, where the Clinton Foundation is located. But New American Media recently posted an article which included the following editor's note:"If Harlem's opinion still matters in the African American community, this groundview snapshot shows Sen. Barack Obama pulling ahead of New York rival Sen. Hillary Clinton."
Their headline said it more precisely: "Obama Has Harlem Locked." Harlem is Obama country.
Stay tuned for Ethiopian American diaries from the Obama campaign trail.