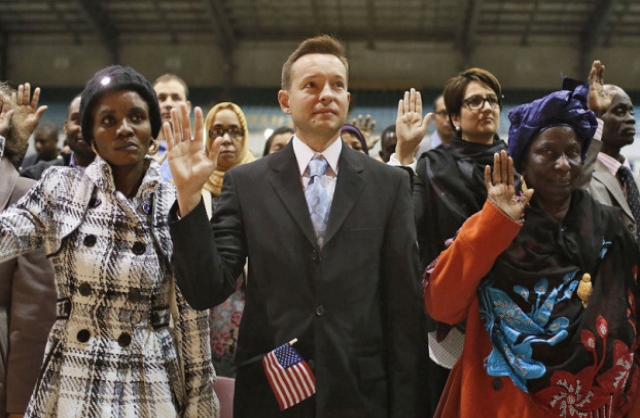 By Steve Wartenberg
For 22 years, Yacob Amare has waited to say his first words as an American citizen.
He finally got his chance yesterday, at the start of the annual Columbus International Festival at the Ohio Expo Center. U.S. District Judge Edmund A Sargus Jr. presided over a naturalization ceremony there for about 75 people from 35 countries who ranged in age from 18 to 73.
Each new citizen stood and stated his or her name and birth country. Many added how happy they are to be citizens; others said they look forward to voting for the first time.
"My name is Yacob Amare from Ethiopia, and I'll be running for office one day," said the 34-year-old believer in the American dream.
"I want to be a senator," he said later.
Amare and the other new citizens joined the growing melting pot of central Ohio, or what Sargus described as "a fine mosaic."
While many festivals focus on "one ethnicity, one country or one faith, we are international," said Dr. J.S. Jindal, a retired dentist from India who is chairman of the International Festival, which was first held in 1955.
The goal is to bring people together.
Read more at The Columbus Dispatch »
—
Related:
Jersey City welcomes new U.S. citizens with naturalization ceremony
Join the conversation on Twitter and Facebook.