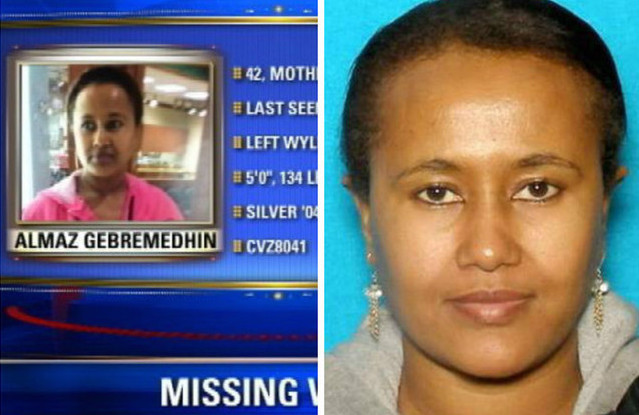 Tadias Magazine
By Tadias Staff
Published: Tuesday, November 11th, 2014
New York (TADIAS) – In an interview with Tadias Magazine on Monday Mac Mekonnen, Executive Director of the Mutual Assistance Association For Ethiopian Community in Dallas, said that the family of Almaz Gebremedhin — the Ethiopian-born mother of two children who had been missing for almost five weeks and whose body was found last Sunday — will move into St Michael Ethiopian Orthodox Church in Dallas for three days of mourning. Mr. Mekonnen said they will wait for the autopsy reports to be completed before announcing plans for the funeral. Almaz is survived by her husband of 16 years, Sisay Zelelew, her 10-year-old son, an 8-year-old daughter, and her mother who resides with the household in Wylie.
The Ethiopian community in the Dallas/Forth Worth area has stood beside Almaz's distraught family, quickly mobilizing to raise reward money within days and even hiring the private detectives who eventually led the discovery of her remains submerged in a pond inside her car, between her home and her work in Wylie, Texas. 42 year-old Almaz had been reported missing since Thursday, October 2nd, 2014. Almaz was employed by the Garnet Hill Rehabilitation and Skilled Care, which is located approximately three miles from her residence and less than a mile from the Muddy Creek Farms pond, where the body was found.
"To begin with the Wylie Police Department was really cooperative in helping out in the search. They did a helicopter search. They also conducted a horseback search, and they did what they could given the circumstances and that was pretty much about it," said Mr. Mekonnen. "We really appreciate what they have done, but there wasn't much progress after that. As you know Almaz was missing for over one month."
A week and half into the investigation, Mr. Mekonnen said, they created a task force within their organization regarding the case. "Not only did we raise $15,000 from the community, but we also offered $10,000 reward money for anyone who had any information leading to the discovery of Almaz," he shared. "And while we were waiting to hear from the police department, and when it took time, the task force decided to hire private investigators." He added: "We set up a budget and they started working on it and they were also trying to coordinate with the police department."
Mr. Mekonnen continued: "Our private investigators contacted a non-profit organization out of Illinois that is a water search organization called Team Waters Sonar Search & Recovery Incorporated. They asked us just a minimum fee to do the search and they came on Sunday. They drove all the way from near Chicago with the technology and they went to the area where we suspected Almaz might have been missing. True enough there was a pond, about 12 feet deep. Inside the water when they stared using their sonar technology they located the car. And immediately they notified the Wylie Police Department. Then divers from the County's Sheriff's office were called in. They dove and they pulled out the vehicle and, of course, her body."
In a press release the Wylie Police Department said that officers "were dispatched to the area to assist in the search as well as Collin County Sheriff's Office Dive team." The statement added: "The family was immediately notified by Wylie investigators. This case is still under investigation as to how the vehicle ended up in the pond."
The pond is a mile and half from where Almaz lived, noted Mr. Mekonnen. "So it's not too far really, it's a short distance," he said. "From what I hear right now in the news it's that the Wylie Police Department is saying that they did not have the right technology to do the water search in that kind of deep water." Mr. Mekonnen stated: They definitely give credit to the sonar search company out of Illinois."
"And obviously this task force that we have assembled here in the Dallas/Fort Worth Ethiopian community was determined to see this to its conclusion," Mr. Mekonnen added. "On behalf of the task force I would like to thank our community, and the Dallas community in general for their concern and assistance. At the moment, as a community, in spite of a lot of talk out there of what happened, we are focused on bringing everybody together to help the family. We are in support mode right now."
Video: Texas Woman Missing Since October Found in Wylie pond

—
Join the conversation on Twitter and Facebook.