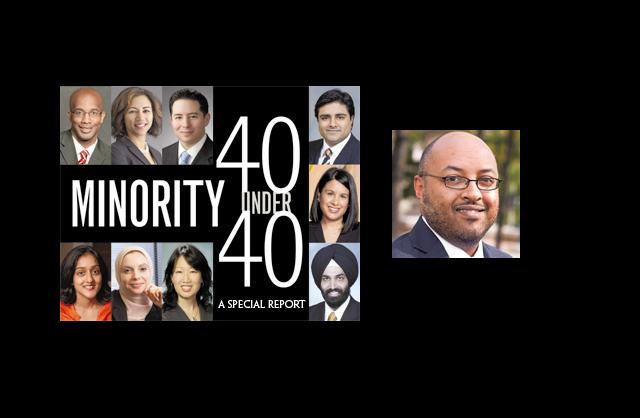 Tadias Magazine
By Tadias Staff
Published: Monday, November 14, 2011
New York (TADIAS) – Ethiopian American attorney Gejaa Gobena was recently chosen by the National Law Journal as one of 40 distinguished minority lawyers, all under the age of 40, who have been honored for their accomplishments within the legal profession.
"The lawyers profiled were all born in the 1970s, a decade when law schools and law firms were just beginning to welcome minorities in significant numbers," the publication said. "The thriving careers of these lawyers — at law firms and in government, academia and public interest — attest to the greater opportunities available to them, as well as to their talents." NLJ added: "But progress has been mixed. As Paulette Brown notes in her commentary, the economic crisis of 2008 took a great toll on diversity. And ethnically diverse lawyers still comprise only about 6 percent of equity partners."
About Gejaa Gobena:
By Mike Scarcella

When it comes to health care fraud enforcement, the U.S. Justice Department's Gejaa Gobena has seen both sides. A former associate at Fried, Frank, Harris, Shriver & Jacobson, where he had a white-collar defense practice focusing on False Claims Act matters, the 36-year-old Gobena is now a leading trial attorney working on criminal health care enforcement actions in Detroit. Gobena, a lawyer in the Criminal Division's fraud section since September 2009, works on the department's Medicare Fraud Strike Force in Detroit, a targeted operation that has netted charges against 84 people for alleged schemes that bilked the government out of $85 million.
DOJ put together investigation and prosecution teams to focus on cities where statistics showed a spike in fraud. "I'm motivated by the fact health care fraud is a major problem out there," Gobena said. The victims, he said, are not just the federal government. "There's a human element to the story," said Gobena, addressing elderly patients who get caught up in scams. In a recent case that Gobena prosecuted, a Detroit-area clinic owner was sentenced this month to 10 years in prison for his role in a $9.1 million scheme.
Gobena is a 1998 graduate of Columbia Law School. His expertise in the criminal arena is complemented by his work in DOJ's Civil Division for nearly seven years. Gobena on Oct. 19 was named one of several recipients of the Attorney General's Award for Fraud Prevention for his work on the team that recovered more than $680 million from pharmaceutical manufacturers that included Abbott Laboratories. That investigation revealed the companies had falsely inflated drug prices.
Gobena describes himself as a mentor to younger lawyers, helping them prepare for grand juries and discussing trial strategy. "In the near term, I can't see myself doing anything other than public service," he said.
—-
Click here to read the rest of the list at National Law Journal.