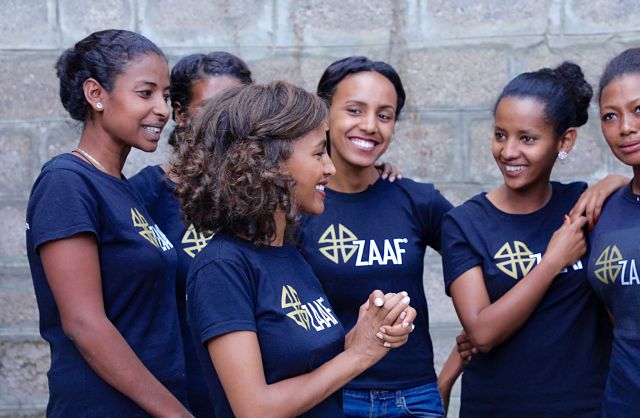 Tadias Magazine
By Tadias Staff
Published: November 18th, 2018
New York (TADIAS) — Abai Schulze, Founder of the award-winning handbag company ZAAF, may have left Ethiopia when she was almost eleven years old, but Ethiopia never left her.
Five years ago Abai returned to Ethiopia to launch her "community-oriented, fashion line" called ZAAF, which produces a brand of premium leather products such as handbags, jackets, and travel accessories that are designed and handcrafted by artisans in Ethiopia.
"Ethiopia is the birthplace of ZAAF, and will serve as the foundation of a luxury lifestyle brand as we expand out to draw on the rich heritage and culture that can be found across the continent," Abai had told Tadias in a feature interview two years ago. Explaining her long-term goal for her business Abai added: "In ten years we want to be a widely recognized and sought after brand that equates 'Made in Africa' with brilliance in craftsmanship, artistry, and deep cultural roots."
"Real economic development is about producing top quality products using unique cultural, natural, and human resources that can find a place at the highest levels in the global marketplace," Abai explained. "So the vision is really very big — it is about setting standards of excellence and innovation; it is about demonstrating and affirming that we can be a top fashion brand competing with the biggest names in the world in terms of both creative design and quality."
Abai was born in Wollo and grew up in an orphanage in Addis Ababa before she was adopted by an American family in the late 1990s and returned to Ethiopia in 2013 to establish Zaaf. Since its launch ZAFF has been featured in Vogue, Elle, Forbes, Le Monde and Lucky magazines as well as showcased at New York Fashion Week.
On December 1st, 2018 Zaaf is set to inaugurate its first store in Washington, D.C. "We are super excited," the company stated in their announcement. "The ZAAF Store is not going to be your ordinary boutique – you can come in and design your very own piece in our design lab."
"We plan to fulfill the first 15 design lab orders placed on December 1st in time for Christmas," Zaaf announced.
All Zaaf products are produced by hand in Ethiopia using locally sourced high-quality leather, "the best of best," Abai says, and customized for each client. She describes Zaff, which means tree in Amharic, as being uniquely Ethiopian. "Most of our products are named after Ethiopian trees…I was inspired by the notion of deep roots reaching into abundantly rich Ethiopian culture and heritage, while bring out beautiful new branches of creativity and functionality."
—
If You Go:
ZAAF STORE GRAND OPENING – DEC. 1, 2018
Saturday, December1, 2018
2:00PM – 6:00PM
1409 Florida Ave. NW
Washington DC, 20009
Click here to RSVP
Join the conversation on Twitter and Facebook.