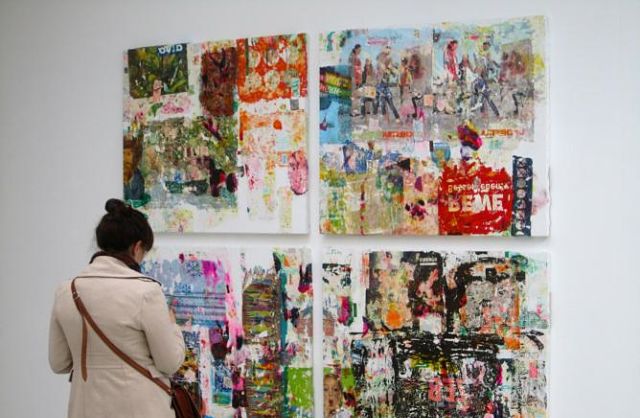 By Joacim Nielsen
Tackling the difficult task of portraying concepts such as globalisation, inequality and the past into works of painting, sculpture and installation, Ethiopian-Belgian artist, Ermias Kifleyesus, is certainly not afraid of tackling tricky subjects. He creates works that are multifaceted – using materials he stumbles across in everyday life. We take a look at Kifleyesus' latest works of art, creating art in standard phone booths.
Being a native of Addis Ababa, Ethiopia, and now based in Brussels, his art reflects the different cultures and the parted and fragmented world he knows: billboard commercials, retro film posters and old kitsch oil canvases melt together to show a globalised world with little coherence.
Gallery owner and Kifleyesus' exhibitor Paul Kusseneers explains that the artist works in multifaceted ways. A rather odd method takes place in international telephone booths: 'Kifleyesus curled some posters together and placed them in phone booths where people are calling family and friends across the globe…he placed a pen and people started drawing on it'. As he was explaining this, Kusseneers pulled out a poster cut in several pieces, brown-edged and full of all kinds of different alphabets, squiggles and drawings.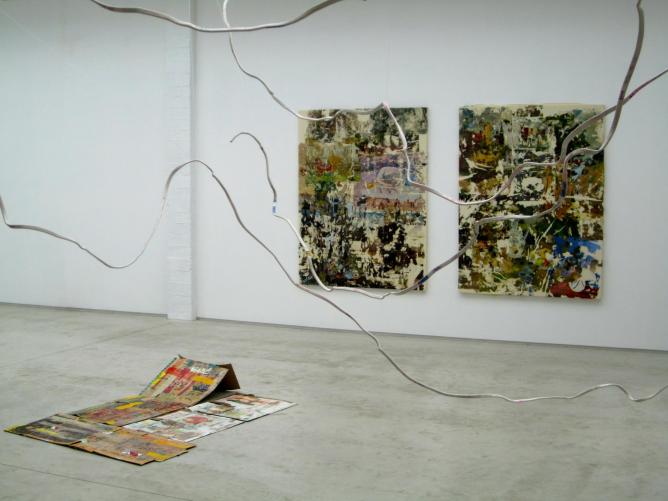 Ermias Kifleyesus | © Paul Kusseneers and the artist
The idea behind this project was to demonstrate that these phone booths in immigrant neighbourhoods across different cities in Europe were a link to the rest of the world. They create a gateway to greater understanding, where all manner of people can communicate and many languages can be spoken.
Kifleyesus calls it 'an open source', alluding to the collaborative nature of the project. The final result even involved the removal of the wooden shelves on which callers would lean, encrusted with dirt they made interesting additions to Kifleyesus' later installation. For Ermias Kifleyesus, it is not necessarily essential to create an artwork from scratch, but rather to carefully gather together objects that represent moments in time, unique pieces of forgotten history to be unified by him into a single art-form.
An ideal recent example of this is Kifleyesus' collection of several old canvases by unknown artists, purchased from a flea market in Amsterdam. When he had gathered a suitable selection, Kifleyesus duplicated, cut and drew on the canvases to create a piece portraying fractured and unique works of art.
—
Join the conversation on Twitter and Facebook.