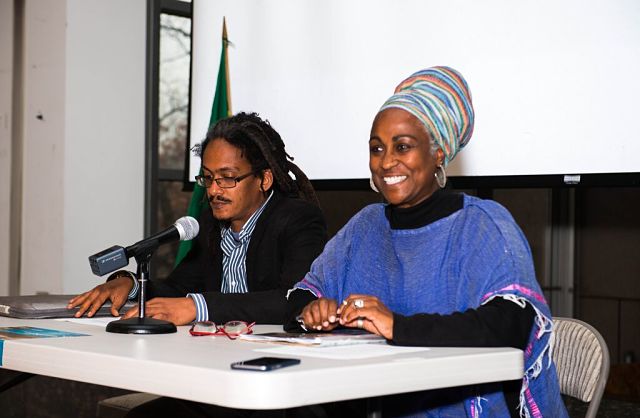 Tadias Magazine
By Tadias Staff
Published: Friday, November 20th, 2015
New York (TADIAS) — Five artists from Ethiopia will be featured for the first time at this year's Miami Art Basel, one of the largest art events in the United States.
The Ethiopian artists include Desta Hagos, Daniel Taye and Merid Tafesse, as well as works by the late Ermias Mazengia and Mathias Lulu (who both passed away in 2013).
The 2015 Miami Art Basel takes place from December 3rd – 6th in Miami Beach, Florida.
"It is the first in the 13-year history of Miami Art Basel that Ethiopian art or African art in this context will be presented," said the curator Dr. Desta Meghoo J.D, who was formerly Managing Director of the Bob Marley Foundation, during a press conference held on Thursday morning at the Ethiopian Embassy in Washington DC.
"It is important to note that Miami gets over half a million visitors just for this particular event," Dr. Desta said. "That's a lot of eyes, ears, curiosity for art and a major opportunity for us to expose Ethiopia through contemporary fine art." She added: "We are very happy to get the support that we've received especially from luminaries like the iconic painter Desta Hagos who is arriving here next Monday.
During the press conference Dr. Desta was joined by one of the featured artists Merid Tafesse who also spoke to reporters.
Below is an audio and photos from the press conference:
—
You can learn more at www.tizitaproject.com.
Join the conversation on Twitter and Facebook.