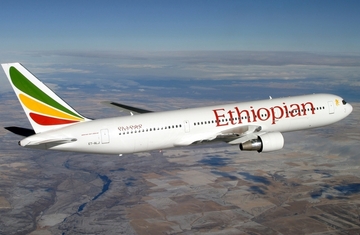 Source: Ethiopian Airlines

Explanation on the Incident of ET-404
November 26, 2008
In line with the regulation of the Civil Aviation Authority of Israel, any commercial flight is required to notify the Air Traffic Controllers (ATC) ten minutes before entering into the country's air space.
Accordingly while the flight crew was trying to communicate with the Israeli Air Traffic Controllers there was misunderstanding in communication. As a result, the ATC has held the flight for 18 minutes until they confirmed that the aircraft was in fact Ethiopian Airlines flight ET-404/24 November 2008.
There after, the flight was cleared to land at Ben Gurion International Airport in Tel Aviv as per its schedule. The passengers were also handled smoothly as usual.
Ethiopian has been operating to Tel Aviv since 1998. Currently it operates four weekly flights to Tel Aviv.
About Ethiopian
Ethiopian Airlines, one of the largest and fastest growing airlines in Africa made its maiden flight to Cairo in 1946. The airline currently serves 53 destinations around the globe, 33 of which are in Africa.
In 2008 Ethiopian was the recipient of the Corporate Achievement Award from Aviation & Allied Business, the Brussels Airport Marketing Award on its long haul service, and Best Airline in Africa from the Africa Travel Award-Nigeria. In 2006 and 2007 Ethiopian also won awards as the African Airline of the Year 2006, Africa Business of the Year 2007 and Ghana Business and Financial Award 2007 from the African Aviation, the African Times/USA and the Government of Ghana respectively for its outstanding performance in the commercial air transport industry.
Ethiopian will be the first carrier to operate the 787 Dreamliner in Africa, the Middle East and Europe.
Read the press release at Ethiopianairlines.com.
—–
Two Israeli Air Force jets scrambled to intercept Ethiopian Airlines plane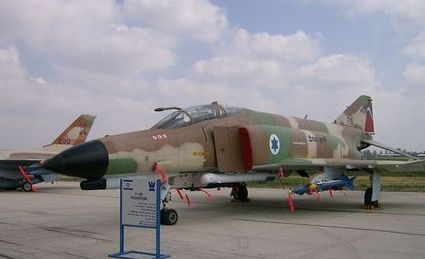 An Israeli Air Force F-4 Phantom II, in typical desert camouflage
(Wikimedia Commons).
IAF jets scrambled to intercept unidentified plane
"Ethiopian aircraft pilot fails to identify himself on way
to Israel, apparently due to technical error in radio. Israel
Air Force jets identify plane, leading it to safe landing at
Ben Gurion Airport."
Ynetnews.com
Eli Senyor
Published:
11.25.08, 08:00 / Israel News
Two Air Force jets were scrambled to intercept an Ethiopian plane approaching Israel's airspace without identifying itself Tuesday morning.
The civilian aircraft, carrying some 200 passengers on its way to Israel, failed to follow safety regulations and did not identify itself, apparently due to a technical error in the plane's radio device. Read More.
Cover Image: Ethiopianairlines.com