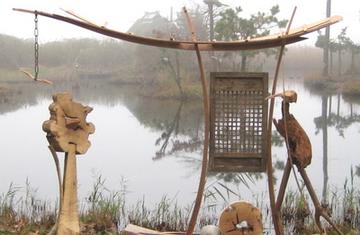 Above: Michael Ince, River Bird Landing, 2008, black locust
wood, southern yellow pine, stone, glass, 84x96x36 inches.
(Photo: Zabby Scott).
Source: Skoto Gallery
New York - Skoto Gallery will present Visionaries and Outcasts, an exhibition of recent works by Michael Ince (USA), Olalekan B. Jeyifous (USA/Nigeria) and Pefura (France/Cameroon). The reception is Thursday, December 4th, 6-8pm and the artists will be present.
Despite their varied traditions and personal cultural backgrounds the three artists in this show respond to the challenges of developing strategies of survival and resistance in emerging societies, and in the process create aesthetic forms that respond to the consequences of political, economic and social crisis caused by policies of international financial organizations such as the IMF and the World Bank. Each of the artists explore issues such as the deterioration in standard of living, environmental degradation, renewable energy, unemployment and migration that are likely related to the contradictory result of globalization due to policies that force these societies to devalue their currencies against the dollar; lift import and export restrictions; balance their budgets and not overspend; and remove price controls and state subsidies. This has led to the formation of mass movements and protests in every continent as people organize to combat the pillaging of lands, resources and livelihood.
Michael Ince has always been motivated by a deep connection to nature, but over the years, the ability of social and economic policies to impact the natural world and its endangered state have become central to his practice. His sculpture installation River Bird Landing, 2008 is elegant in its poetic evocation of the fragility of our ecosystem as a result of the undermining of environmental rules and regulations. His forms, reduced to its essences are derived from nature and culture, and still suggest the actual objects to which they refer. They are the product of much thought and simple design that are meticulously crafted. He grew up in Brookhaven, Long Island where, when not in Paris, he lives with his family on a small farm surrounded by buildings of his making, planting carrots, rearing chickens, making prints and drawings, and birding. A 1964 graduate of Bowdoin College, he traveled to India as a Peace Corps, and has subsequently returned on a major pilgrimage. He is widely exhibited in galleries around the US and in Paris; and in several collections.
Olalekan B. Jeyifous draws from his background as an architect to create works in digital media that are expressive of architectural considerations and the vicissitudes of life that continue to shape and reflect the changing contours of urban landscapes such as the favelas of Brazil, overpopulated cities such as Lagos, Mexico City or Mumbai, as well as areas such as the oil-rich Niger Delta of Nigeria.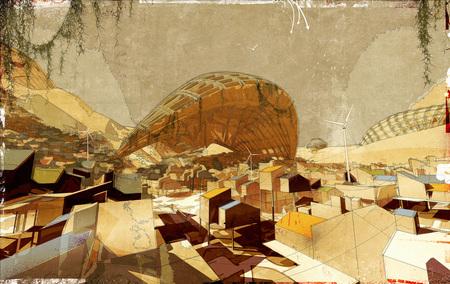 Above: Olalekan B. Jeyifous, The Outer-City Settlement, digital media on
paper, 40×60 inches.
His work does not seek to assert formal solutions to spatial problems, but instead exists as a vehicle for social critique and establishing unique visual languages, ultimately striking the balance between design informed by the notion of industrial production and design informed by the practical and psychological needs of the inhabitants of "contested" spaces. He was born 1977 in Ibadan, Nigeria, and graduated from Cornell University School of Architecture, Art and Planning, Ithaca, New York in 2000. Recent exhibitions include Studio Museum in Harlem and The Kitchen, NYC 2008, The Drawing Center, NYC 2006, International Architecture Biennale, Rotterdam, Netherlands 2005, and the New Museum of Contemporary Art, NYC 2003.
Pefura's portraits of African immigrants living in the Parisian suburb of Montreuil are pleasingly complicated, and merge themes of race, migration and social identity with personal experience and art-historical references. They are layered with profound sociopolitical subtexts, combine painterly gestures of expressionism with the critical distance of conceptual art and provide insightful understanding of the human condition. Pefura was born 1967 in Paris to Cameroonian parents and obtained a diploma in Architecture from Ecole d'Architecture, Paris-Tolbiac in 1999. He has actively practiced as an artist since the early 1990s and is widely exhibited in Africa, Europe and USA. Residencies include Cite des Arts Internatiionale, Paris in 1999 and La Source – Atelier V. Guerolde in France. Collections include Fondation Guerlain, Paris and Conseil General de l'Europe, France.
Learn more about the gallery at : skotogallery.com