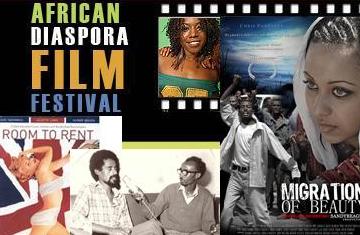 Above: The film festival also features post-screening question
and answer sessions and panel discussions that include critics,
filmmakers, academics, and others.
Tadias Magazine
Events News
Source: ADFF
Thursday, December 3, 2009
New York – The African Diaspora Film Festival (ADFF) presents an eclectic mix of urban, classic, independent and foreign films that depict the richness and diversity of the life experience of people of African descent and Indigenous people all over the world.
Among them are three Ethiopia related movies that you may want to check out this weekend.
Adera
Adera is the heart wrenching story of an Ethiopian refugee's struggle to survive in the city of Johannesburg. Marlam struggles to provide for her two children back home and, through a series of twisted circumstances, ends up as a surrogate mother for a wealthy Ethiopian couple, Tiru and Fre. Their fate is tied to that of Biru's, the shady middle man who is only interested in the money. As this unique African story unfolds, the true cost of dreams is revealed and each life is changed forever. By Nega Tariku, Ethiopia/South Africa, 107min, 2009, drama in English and Amharic with English subtitles. Adera will make its US premiere on Saturday, Dec. 5 @ 8:30PM – Riverside. Q&A will follow the the screenings.
Video: ADERA" Movie Trailer

Memories of a Generation
In this revealing documentary, we hear the story of poet and political prisoner Ali Saeed. He tells his experiences of living in Ethiopia under the leadership of Haile Selassie and the Derg, and his imprisonment for his opposition to the controlling powers. Saeed was forced to leave Ethiopia and find refuge in Somalia, but ended up confronting the same dictatorship he tried to get away from and returned to prison. Saeed eventually finds peace in Canada, where he resides and sponsors other Ethiopian people who want to leave Ethiopia. Saeed courageously uses his "poetry as a weapon" against the oppressive force and a form of empowerment. By Aaron Floresco, Canada, 2009, 78min, documentary in English and Amharic with English subtitles. The film will make its NY premiere Friday, Dec. 4 @ 6:30PM – Anthology. Q&A will follow the the screening.
Video:Memories of a Generation — Trailer 01

Migration of Beauty
The DC area is home to one of the largest populations of Ethiopians outside of Africa. Many came to escape political oppression and human rights violations. Now as U.S. citizens, they exercise Constitutional rights mobilizing and organizing their community members for taxicab workers' rights, DC Voting Rights, Voting Rights in Ethiopia and Humane Immigration Reform. From Ethiopia to the United States, Ethiopians stand up for freedom and democracy. By Chris Flaherty, 2009, 80min, English, USA, documentary. Migration of beauty will show on Saturday, Dec. 5 @ 4:00PM – Cowin (TC) and Sunday, Dec. 6 @ 4:30PM – Anthology. Q and A session with the director along with Tala Dowlatshahi, the senior advisor and spokesperson for the U.S. operations of Reporters Without Borders, will follow the screening.
Ethiopian Talk Show host Nigist Abate with Chris Flaherty
Producer and Director of " Migration of Beauty".