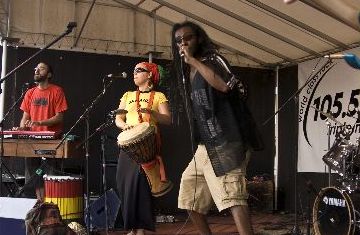 Natty Nation will perform at the Clinic at a Time benefit
concert Dec. 13. (State Journal archives)
MICHAEL JONES
For the State Journal
FRI., DEC 5, 2008
Mulusew Yayehyirad is figuring out new ways to give brighter futures to those halfway around the world.
The Ethiopian native and registered nurse at St. Mary's Hospital looked at the damage of her home country due to poverty and disease and felt she needed to do something about it. So she started Clinic At A Time, a non-profit charity whose mission is to combat her homeland's ills with better supplies, facilities and education.
On Saturday, Dec. 13, CAAT will host a benefit concert, starring the acclaimed reggae-funk-rock group Natty Nation, at the East Madison Community Center with the goal of sending Yayehyirad and a group of volunteers to her hometown of Bichina to help the local clinic next year. Already, the group has raised enough to help construct a new waiting facility in the clinic, a common problem in impoverished areas where diseases can be transmitted between people as they are waiting extremely long hours for care from health care workers who are ill-equipped and sometimes undereducated.
"The volunteers can help out by giving immunizations and sharing their educational and professional experiences with the health care workers," said Yayehyirad.
According to the Earth Institute at Columbia University, Ethiopia's health care system is considered one of the most underdeveloped in Africa, leading to a current life-expectancy rate of 54 years with the prospect of it free-falling to 46 years due to high rates of HIV/AIDS. The institute estimates up to 80 percent of the country's health problems stem from preventable, communicable and nutritional diseases. Yayehyirad believes these problems can be combated with a combination of education, better facilities and better access to supplies.
"In all of these clinics there is no running water, gloves are high commodities, syringes are hard to get. There is no equipment to do minor stitches or if there is, they are not sanitized properly which puts the public in much higher risk for disease transmission," said Yayehyirad. "We need to build more rooms in these clinics so that the woman who is having a baby is not in the same room with a tuberculosis patient, which is a reality.
"It is important educating the health care workers and the public about HIV/AIDS and other diseases coupled by providing the material which could be educational and equipments for the clinics. You can't teach them the importance of sanitization or proper use of equipments if they don't have one to use," she said.
Yayehyirad has been able to bring this all together in addition to raising four children with her husband and holding down a nursing job with the help of her family, friends, CAAT's board and her faith.
"I manage my busy schedule with the help of my husband, my mother and my kids, most of all with the grace of God. Everyone in my house understands and values one another. When you have that kind of support … you can accomplish a lot," she said. "My board members are also helpful and supportive of what we do as an organization, which takes some of the responsibilities off of my shoulder."
In addition to Natty Nation's musical stylings, there will be a video presentation with further information about CAAT's mission and accomplishments. Also, people will have a chance to try some Ethiopian dishes such as ingera, a flat bread made from three different flours with beef stew or a vegetarian option. Whether you come down for the music, the food or the mission, every penny will go toward the people that need it the most — something very important to Yayehyirad.
"I think it is important for my contributors and donors to know that their contribution is directly going to the people who need the help," she said.
If you go
What: Benefit Concert for Clinic At A Time
When: Saturday, Dec. 13, 3 p.m. to 6 p.m.
Where: East Madison Community Center, 8 Straubel Court, Madison 53704
Audience: All ages
Cost: $20, kids under 5 are free
Details: www.clinicatatime.org