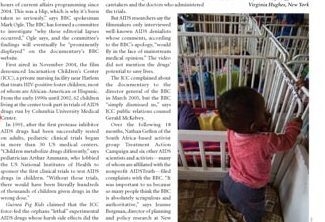 By Staff Writer
New York – Slate Magazine reports that a story discussing HIV-positive Harlem children in the current issue of Nature Medicine, includes a photo taken in Addis Ababa, which suggests to depict the Harlem children.
The picture, showing a black toddler standing in a crib – "one of nine paint-chipped, closely packed cribs occupied by other toddlers" – was taken by photographer Klaas Lingbeek-van Kranen in Ethiopia at an orphanage run by nuns, according to iStockphoto, the stock photography house where Nature purchased the image.
The photo was published with the vague caption that read "Foster children took part in trials of AIDS drugs."
Juan Carlos López, Editor of Nature Medicine, told Slate that he approved the photo, but was not aware that it was taken in Ethiopia.
"He says the journal's production editors routinely identify images for it and that this particular image was not queried by the publication's fact-checker", wrote Jack Shafer of online magazine Slate.
"Although the image's vague caption does not state that the scene was captured in Harlem, Lopez concedes the unnecessary confusion it may have caused."
Big confusion, indeed. Read the full story at Slate.com.