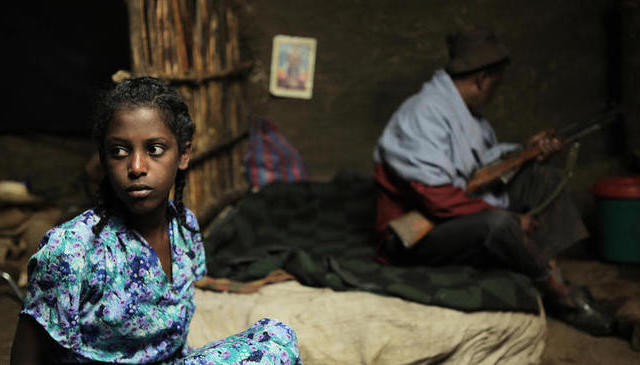 By Kenneth Turan
The compelling "Difret" is a small film with a lot on its mind. Authentic and affecting, this drama about fighting against the Ethiopian tradition of abducting young girls into marriage is potent enough to be that country's official Academy Award submission and gain the support of Angelina Jolie as an executive producer.
Director Zeresenay Berhane Mehari, who also wrote the film's Amharic-language script, is a graduate of USC's film school, and the strength of "Difret" is in that particular combination of classic storytelling and cultural specificity.
Based on an actual incendiary legal case that was a sensation in Ethiopia a decade ago, "Difret" not only deals with an abhorrent practice that is still going on, it provides a dramatic yet nuanced window into a culture we almost never see.
For as Mehari said in an interview at the Sundance Film Festival, where the film won the World Cinema Audience Award for drama, "Difret" (the word means "to dare" but can also refer to rape) is a work without specific evil-doers. "If there is a villain in my film," he said, "it's not a person, it's the tradition."
This ability to encapsulate multiple viewpoints is critical for presenting the different strata of a country of multiple divides, not only between the traditions of rural life and the mores of the modern metropolis of Addis Ababa but also the differing attitudes toward women and justice that exist even among the country's educated elite.
Read more at The Los Angeles Times »
Video: Audience Reaction at 2014 New African Films Festival in Silver Spring, Maryland

—
Related:
Difret Los Angeles Premiere at Laemmle Music Hall Theater – Friday, December 12th
'Difret' Submitted for Oscar Consideration for Best Foreign Language Film
Tadias Interview with Zeresenay Mehari & Mehret Mandefro
'Difret' Wins Panorama at Berlin Film Festival
Ethiopian film confronts marriage by abduction (BBC)
'Difret' Wins World Cinema Dramatic Audience Award at Sundance Festival
Tadias Interview with Filmmaker Yidnekachew Shumete
Join the conversation on Twitter and Facebook.