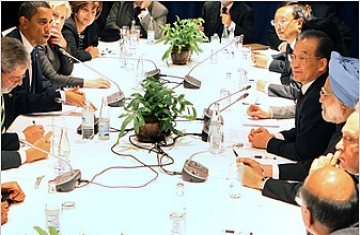 Above: President Obama with Chinese prime minister Wen
Jiabao, across from him, the prime minister of India, Singh,
right, and other world leaders at the Copenhagen climate
summit. (The New York Times)
The Wall Street Journal
COPENHAGEN (Dow Jones)–The United Nations-sponsored climate summit ended Saturday with a face-saving note saying "the majority of countries" showed support for a U.S.-spearheaded unambitious political agreement. Read more.
Video: Ban Ki Moon welcomes Coenhagen accord ITN NEWS

Video: Obama Praises Copenhagen Agreement (AP)

Video: Obama Pledges Action With Or Without Climate Deal

Guardian
Obama's arrival expected to inject fresh momentum into
Copenhagen talks
Suzanne Goldenberg
US president said to be preparing 'knock out punch' after Hillary Clinton's game changing promise to back $100bn climate aid.
Barack Obama is poised to arrive in Copenhagen tomorrow with additional pledges of cash for poor countries which will suffer the most from global warming, a day after America's promise to support a $100bn a year climate fund. Read more.
Video: Obama Arrives in Copenhagen on Last Day of Climate Talks

The Australian
Ethiopian leader Meles Zenawi breaks deadlock
December 18, 2009 11:25AM
BARACK Obama and the best-known leaders in the world will gather in Copenhagen today but it is a slight, gently-spoken Ethiopian who has injected at least a faint ray of hope into the climate change summit by opening the way for a breakthrough on climate funding. Meles Zenawi, a former Marxist guerilla who has spent 18 years ruling Ethiopia, Africa's second most populous country after Nigeria, surprised delegates from most countries and displeased some of the 52 African nations that he is representing in Copenhagen by offering a US$300 billion-a-year compromise on the issue of climate finance. Read More
Video: EU backs Zenawi deal (ntvkenya)

Video: Hedegaard steps down, tensions mount ( France 24)

Poor and Emerging States Stall Climate Negotiations
The New York Times
By JOHN M. BRODER
Published: December 16, 2009
COPENHAGEN — If the United Nations climate talks here are entering their final two days in virtual deadlock, it is in large measure because of delays and diversions created by a group of poor and emerging nations intent on making their dissatisfaction clear. Read more.
World: Copenhagen Climate Change Q&A (NYT Video)

Video: Danish Police Keeps Climate Protest Under Control EUX.TV