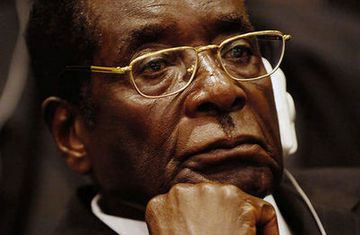 Above: Mugabe at the African Union summit in Addis Ababa,
Ethiopia on 31 January 2008. (Wikimedia Commons).
Sunday, 21 December 2008
The United States says the power-sharing deal in Zimbabwe will not work with Robert Mugabe as president.
The US would not reverse sanctions policy while Mr Mugabe remained in power as he had "lost touch with reality", said its top envoy to Africa.
As well as suffering economic collapse, Zimbabwe is suffering from a cholera epidemic charities say is critical.
Talks on a power-sharing deal with the opposition following disputed elections in March have been stalled.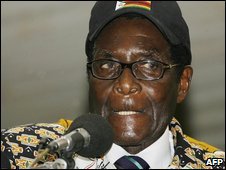 Progress has also stalled over should control key ministries.
The opposition MDC accuse Mr Mugabe of breaking the deal to form a coalition government and abducting its members.
The US had supported the deal that was signed in September and promised to lift sanctions if it was implemented.
Zimbabwe is mine, I am a Zimbabwean. Zimbabwe for Zimbabweans
Robert Mugabe
But US Assistant Secretary of State for Foreign Jendayi Fraser it could no longer fulfil either of those pledges, saying that Mr Mugabe had "reneged on the principle of power sharing".
"We have lost confidence in the power-sharing deal being a success with Mugabe in power. He has lost touch with reality," she said during a visit to South Africa.
"We were prepared to use the American influence to negotiate with the World Bank and the International Monetary Fund to clear the $1.2bn Zimbabwe debt, but now we are no longer prepared to do that."
'Mine'
Mr Mugabe has said he is not to blame for Zimbabwe's situation and has rejected calls from African and Western leaders to stand down.
On Friday, he told delegates of his ruling Zanu-PF at their annual conference that he would "never, never, never surrender".
"Zimbabwe is mine, I am a Zimbabwean. Zimbabwe for Zimbabweans," he said.
Mr Mugabe has said that the cholera crisis is over and was being used by the West as an excuse to invade Zimbabwe.
However, aid agencies have warned that the disease, which has already claimed 1,123 lives, could infect more than 60,000 unless its spread it halted.
Ms Fraser called on African leaders to unite against Mr Mugabe, saying that if they were to "go to Mugabe and tell him to go, I do think he would go".