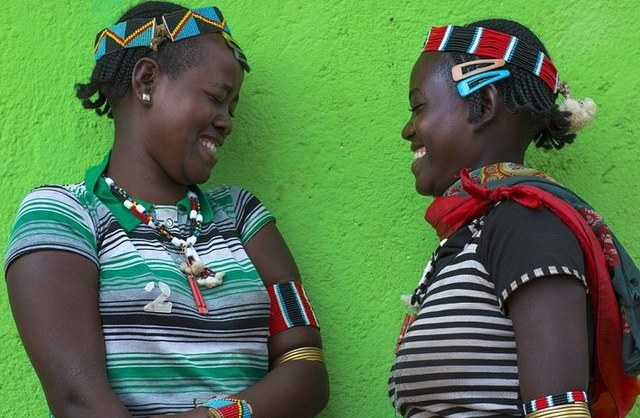 Tadias Magazine
By Tadias Staff
Published: Wednesday, December 31st, 2014
New York (TADIAS) – The colorful hairwear of the people of Ethiopia's Omo Valley is inspiring international fashion — just take a look at the 2015 collection by style powerhouse Dolce & Gabbana that's taking the world by storm. "When Dolce & Gabanna sent models sporting piles of colourful hair accessories down the catwalk during their S/S15 show, the fashion world swooned in delight," notes the Daily Mail. "But the designers' source of inspiration for the look is an unlikely one – the colourful Bana people of Ethiopia's Omo Valley, who like nothing better than intricate piles of brightly coloured hair clips."
The Daily Mail also points out Japan's Kawaii girls also share a similar tradition of adoring their hair with colorful clips, but the Japanese seem to prefer different shades of a single color – pink.
For Ethiopia's Bana tribe "getting dressed is less about showing individuality and more about looking as bright and cheerful as possible. Beadwork has long been part of their culture, with many opting for colourful beaded headbands – sometimes combined with the hair clips. Others, regardless of sex and age, adorn themselves with piles of arm bands, heavy metal necklaces and beaded belts in eye-popping shades of yellow and crimson. However they are worn, piles of colourful hair clips have proved one of the most universally popular trends of 2014, with devotees also spotted at Glastonbury in the summer and at festivals across the globe. And with scores of colourful hair accessories cropping up on the S/S15 catwalk, it is probably just a matter of time before they show up on a high street near you."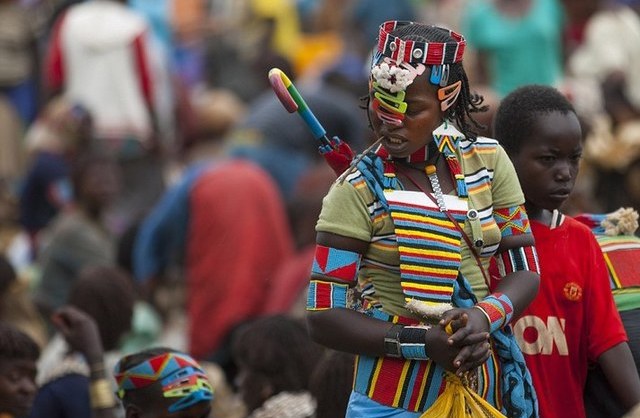 Beautiful: Bana woman in Ethiopia — As this photo reveals, her simple t-shirt is almost hidden by her beaded belt and breast plate and she also carries an umbrella. ((Photo credit: Eric Lafforgue)
Read more at www.dailymail.co.uk »
—
Related:
Tadias Year in Review: 2014 in Pictures
Ten Arts & Culture Stories of 2014
Join the conversation on Twitter and Facebook.