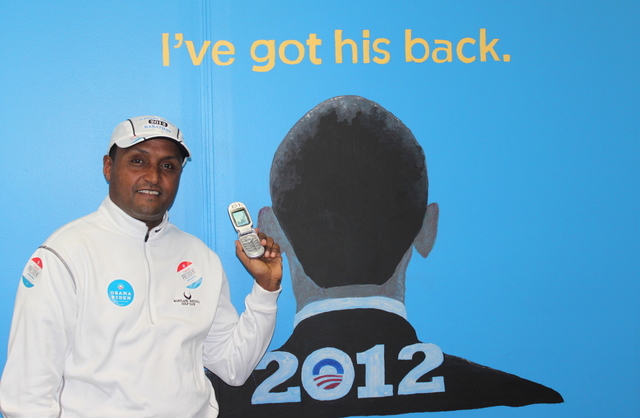 Tadias Magazine
By Tadias Staff
Published: Wednesday, January 1st, 2014
New York (TADIAS) — During the 2012 presidential election, President Obama was supposed to be headed for a sure defeat on election day given that most polls had shown him trailing his opponent by a significant number, which was trumpeted by many pundits across the country, including by several in the Ethiopian American community. But how did they get it so wrong? "As one prominent pollster put it they were drinking the 'Republican Kool-Aid'," said Dereje Befekadu Tessema, author of the new book How this Happened—Election 2012: Perfecting the Science of Presidential Campaigning, pointing out that most of the major polling agencies missed predicting that election accurately because they were 'out to lunch' when it came to understanding "new ways of collecting data" from young people and minority communities that he argues the Obama campaign perfected. "The only person who got it right is Nate Silver, the statistician and author of the FiveThirtyEight blog then published in The New York Times."
In its review of Dereje's book (Gashe Publishing) ForeWord Clarion Reviews noted: "A meticulously constructed, frank examination of the 2012 US presidential election drawing from a plethora of sources, How This Happened follows up on Dereje B. Tessema's earlier project of the same title, which covered the 2008 election. This exploration of how Barack Obama secured his second term expounds upon other Monday-morning analyses. Though few pollsters and pundits predicted a strong win, the Obama administration ended up being re-elected by a strong margin, and the author makes a case that the victory was well-earned. 'The signature of the Obama campaign,' Tessema asserts, 'was its ability to maximize positive events and turn challenges [in]to opportunities.'"
Dereje, who teaches at Virginia International University in Fairfax, Virginia, told Tadias that he is in the process of organizing a "semi-professional" panel discussion at a university location in Washington, D.C. area to explore "the lessons learned from the past" as we approach another election season that he hopes will include a record participation by Ethiopian American voters.
"Both in the 2008 and 2012 elections Alexanderia, Virginia [home to a sizable number of Ethiopians] was the tipping point," said Dereje in a recent interview with Tadias Magazine, emphasizing that the large turnout by Ethiopian American voters was crucial in the swing state.
Dereje said he was a volunteer with the Obama campaign in both elections. "How This Happened is a cleverly constructed, well contextualized insider's history of the 2012 presidential campaign, one which will imbue supporters with a sense of pride, and which may prompt fruitful conversations with detractors," Michelle Anne Schingler concluded in the Clarion Reviews. "It is a sure treat for those fascinated by the political process."
—
You can learn more and purchase the book at: www.amazon.com.
Join the conversation on Twitter and Facebook.