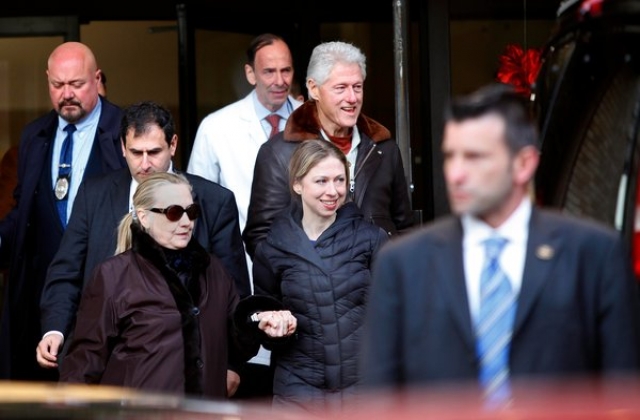 By DENISE GRADY and MARK LANDLER
Hillary Rodham Clinton, whose globe-trotting tour as secretary of state was abruptly halted last month by a series of health problems, was discharged from a New York hospital on Wednesday evening after several days of treatment for a blood clot in a vein in her head.
The news of her release was the first welcome sign in a troubling month that grounded Mrs. Clinton — preventing her from answering questions in Congress about the State Department's handling of the lethal attack on an American mission in Libya or being present when President Obama announced Senator John Kerry as his choice for her successor when she steps down as secretary of state.
"Her medical team advised her that she is making good progress on all fronts, and they are confident she will make a full recovery," Philippe Reines, a senior adviser to Mrs. Clinton, said in a statement.
Visit NBCNews.com for breaking news, world news, and news about the economy
Watch: Hillary Clinton Hospitalized With Blood Clot (Associated Press Video)

By Matthew Lee
WASHINGTON (AP) — Secretary of State Hillary Rodham Clinton was admitted to a New York hospital Sunday after the discovery of a blood clot stemming from the concussion she sustained earlier this month.
Clinton's doctors discovered the clot Sunday while performing a follow-up exam, her spokesman, Philippe Reines, said. He would not elaborate on the location of the clot but said Clinton is being treated with anti-coagulants and would remain at New York-Presbyterian Hospital for at least the next 48 hours so doctors can monitor the medication.
"Her doctors will continue to assess her condition, including other issues associated with her concussion," Reines said in a statement. "They will determine if any further action is required." Clinton, 65, fell and suffered a concussion while at home alone in mid-December as she recovered from a stomach virus that left her severely dehydrated. The concussion was diagnosed Dec. 13 and Clinton was forced to cancel a trip to North Africa and the Middle East that had been planned for the next week.
Read more at USA Today.
—
Related:
Hillary Clinton Is Hospitalized After Exam Finds a Blood Clot (NYT)