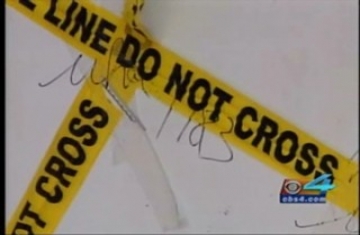 Police Think This May Have Been A Robbery But Are Still
Not Sure. Miami-Dade Crimestoppers (305) 471-TIPS



Lazaro Diaz
MIAMI (CBS4) ― By all accounts 39-year old Samuel Abate Balcha had no enemies. He was well loved by his friends & neighbors and was a hard worker. But on January 1st, 2009 his body was found inside his efficiency apartment. His killer has yet to be found.
Now close friend Lazaro Diaz is making a plea to the community for help in bringing Balcha's killer to justice.
"He didn't deserve this, for someone to take his life," said Balcha.
Miami police detective Fernando Bosch told CBS4′s Liv Davalos they are baffled by Balcha's murder and don't really have a motive.
"It's a mystery why anyone would take his life, he was pretty much loved by everybody," said Bosch.
Detectives say Balcha was killed possibly on December 30th, his body found days later by a concerned neighbor, his apartment ransacked. Police say Balcha, who was born in Ethiopia and had lived in Miami for four years, was a civil engineer but was working as a truck driver for a delivery company while going to school at Miami-Dade College to learn English.
"Everybody we spoke to said he was a gentleman, a friend, a brother, there are a lot of people that are concerned," said Bosch.
Anyone who can help police find Balcha's killer is asked to call Miami-Dade Crimestoppers at (305) 471-TIPS.