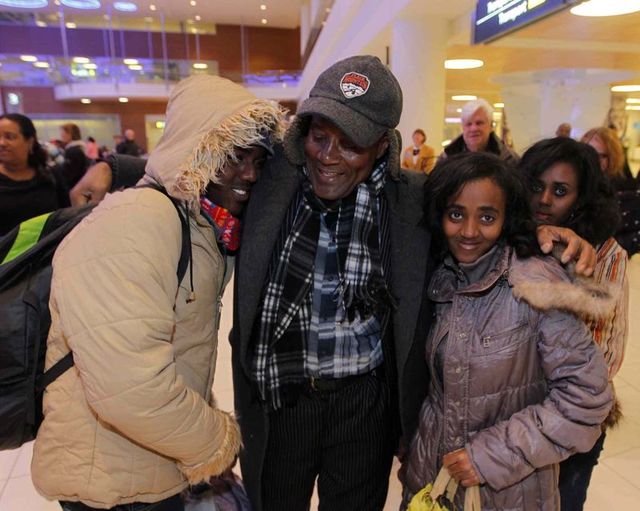 By: Carol Sanders
An Ethiopian girl who went missing on her first day of school in Canada Monday was found safe and sound Tuesday after she took shelter from the deadly cold overnight in a vacant house in Elmwood.
Police took 17-year-old Bethelihem Zeleke Eliso home to her distraught parents early Tuesday evening to whoops of joy from her family and church members, who'd been holding a vigil at the family's apartment on Talbot Avenue since she was reported missing Monday.
"She's lucky to be alive," said her exhausted, emotional and relieved father, Zeleke Tuloro.
It was the second tearful reunion for the family in less than a month. In December, he was reunited with his wife and three children for the first time in 12 years after having fled Ethiopia in 2002.
Monday morning, Tuloro drove Bethelihem and her 15-year-old brother, Nathanael, to school from their home in the 200 block of Talbot Avenue. Bethelihem was last seen Monday around 11:45 a.m. leaving Elmwood High School alone, her dad said. Later, she was spotted on a surveillance camera walking along Union Avenue several blocks away, he said. The petite 5-5 teen was wearing a red coat.
"I think she went to go home, and she missed the way," said Tuloro, who'd been up all night and was driving around the area looking for his daughter Tuesday.
At the time she went missing, Environment Canada reported it was -33 with the wind chill.
Police on Tuesday asked Elmwood-area residents and businesses to check outdoor storage sheds, garages, vehicles, behind buildings and along any fence lines and treed areas where she might have sought shelter. Her mother, Zenebach, and older sister, Kalkidan, 22, were distraught and in tears. Her father calmly said he had faith Bethelihem was OK — that she'd found shelter or someone had taken her in out of the bitter cold.
He was right.
She found a vacant home without any furniture and spent the night inside, her dad said. The homeowner showed up Tuesday and found the Ethiopian girl, who spoke little English.
"The owner of the house said 'What are you doing here?' " said Tuloro, recalling what the police told him.
Read more »
—
Related:
Teen From Ethiopia Goes Missing During First Day of School In Winnipeg, Canada
Join the conversation on Twitter and Facebook.