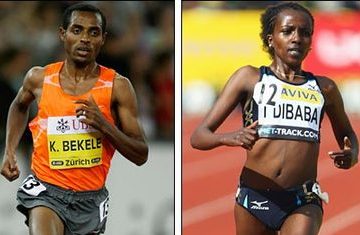 Above: Three-time champion Bekele finished a distant fourth,
while Dibaba won the women's race at the 2010 BUPA Great
Edinburgh International Cross Country race.
IAAF
Edinburgh, UK – In the snow and ice of Holyrood Park today at the BUPA Great Edinburgh International Cross Country Ethiopia's Kenenisa Bekele was defeated by Kenya's Joseph Ebuya in shocking fashion, whilst Tirunesh Dibaba ran majestically to win the women's race with ease to reassert her dominance ahead of the World Cross Country Championships in Poland this March. Read more.
Bekele & Dibaba: Duo Raise The Bar
BBC
By Mark Butler


I'm not sure we know how lucky we are that Kenenisa Bekele and Tirunesh Dibaba have chosen to make so many appearances in the United Kingdom.
The world's two greatest distance runners – with a collective total of 45 Olympic and world golds – are due to be in action again at the Great North Cross Country in Edinburgh on Saturday.
Between them they have won this corresponding race on seven occasions and in Bekele's case, his 2001 victory as a teenager was the first of a six-year 27-race win streak at cross country.
The Ethiopian pair are not just great distance runners, they are among the finest sportsmen of their generation.
Having dominated for most of the noughties there is every sign they will do so throughout the "teens" and even into the 2020s.
Their Ethiopian predecessors Haile Gebrselassie (now 36) and Derartu Tulu (37) are still winning big races and setting records. Bekele and Dibaba will not reach those ages until 2018 & 2022 respectively and Dibaba has already talked of competing at the 2024 Olympics.
Why are they so good ? They run fast, they win big races and make it look easy. Read more.