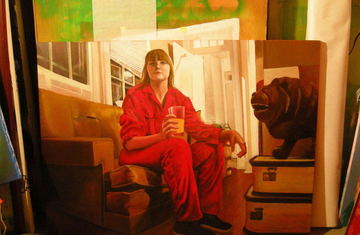 Above: Self-portrait by artist Katrina Franzen.
By Alison Walkley
01/14/2009
Fairfield native Katrina Franzen is about to broaden her world and that of others as she embarks this week on a two-month trip to Ethiopia to teach HIV-positive orphans about art.
A student at Savannah College of Art and Design in Georgia, Franzen recently decided to take a break from her studies to help in AIDS-stricken Ethiopia in Eastern Africa.
"I'll be working with Artists for Charity," she explained via e-mail last week. "I heard about it from my friend, Abezash Tamerat in Georgia. She's a painter and asked if I would want to be an artist in residence at [AFC]. She opened this house [three and a half years ago] to take care of kids in Ethiopia where she's originally from. Ethiopia has lost an entire generation to AIDS so now there are all of these kids who need extra care. I'll be going for two months with Abezash." Read more.