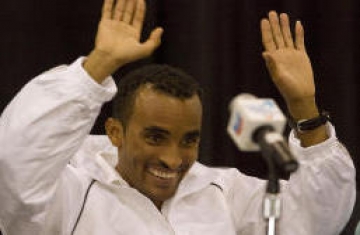 By DALE ROBERTSON
Jan. 16, 2009
When Chevron Houston Marathon officials invited Deriba Merga to this year's race, they told him they'd very much like him to break the 20-year-old course record.
Merga, however, has something else in mind, something just a tad grander. If everything goes according to plan Sunday, he'll leave town with the North American record. Asked by a reporter at Friday's news conference what time he hopes to run, he replied, "Two-oh-five."
To which the reporter, thinking he might not have understood the Ethiopian's limited English correctly, replied, "Two-oh-five? Here? Sunday?"
"Yes, yes," he said.
Merga, who clocked a personal best 2:06:38 in 2008 and finished fourth in the marathon at the 2008 Olympics, is without question the fastest runner ever to compete in the 37-year-old Houston race. But to hear that he's gunning for 2:05 is extraordinary news, considering nobody has ever completed the 26.2-mile course in faster than the 2:10:04 Kenya's Robert Kaitany posted in 1989. Read more at Houston Chronicle.