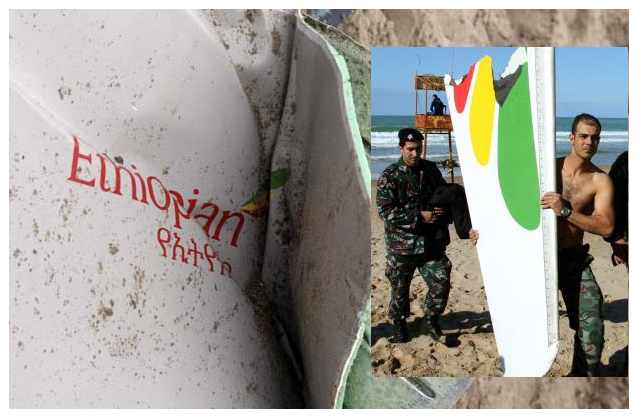 Tadias Magazine
By Tadias Staff
Updated: Wednesday, January 18, 2012
New York (TADIAS) – Two years after the tragic crash of Ethiopian Airlines Flight 409, off the coast of Lebanon with 82 passengers and eight crew members on board, its cause remains an open debate.
Ethiopian Airlines yesterday issued a strongly worded press release rejecting the findings of a Lebanese investigation, which blamed the Ethiopian pilot for the crash.
The Lebanese report is "biased, lacking evidence, incomplete and did not present the full account of the accident," Ethiopian Airlines CEO Tewolde Gebremariam said in a statement. "The report contained numerous factual inaccuracies, internal contradictions and hypothetical statements that are not supported by evidence." He added: "The investigative authority denied the recovery of the wreckage and ignored crucial information such as security footage, autopsy and taxo-logical records, baggage screening X-ray records, terminal CCTV records, full CVR recovery and read out, victims' bodies were buried without medical examination and also declined to provide a detailed profile of passengers."
Lebanese Transport Minister Ghazi Aridi is quoted by the press as saying it was "clear" that "there were errors on the part of the pilot and co-pilot who are entirely responsible for the plane crash."
The flight crashed moments after takeoff from Beirut heading to Addis Ababa in stormy weather in the early morning hours of January 25, 2010. The Lebanese Army had said at the time that the plane broke up in mid-air before plummeting into the sea. Witnesses have described it as crashing after exploding in a ball of flame.
The 90 passengers and crew that perished hail from nine countries: Ethiopia, Lebanon, Britain, Canada, Russia, France, Iraq, Syria, and Turkey.
According to AFP news agency, the Lebanese report says the pilot and co-pilot had been working non-stop for 51 days and were exhausted.
Ethiopian airlines dismissed the report saying its crew was well-rested and it adhered to international standards on hours of work and rest.
"[Air traffic control] officers and other airlines pilots have witnessed a ball of fire on the aircraft in the air," Desta Zeru, Vice-President of Flight Operations for Ethiopian Airlines, said in the statement.
"The aircraft disintegrated in the air due to explosion, which could have been caused by a shoot-down, sabotage or lightning strike," he stated.
—
Related:
Read more: Ethiopian Airlines rejects Lebanon report into air crash (BBC)
Video: Ethiopian Airlines Crashes into the Mediterranean (CBS – Jan 25, 2010)
Join the conversation on Twitter and Facebook.