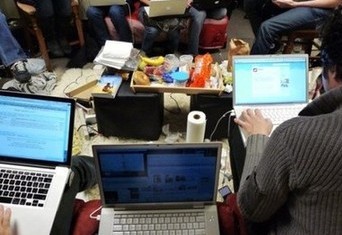 Tadias Magazine
By Tseday Alehegn
Published: Tuesday, January 19, 2010
New York (TADIAS) – When a 7.0 magnitude earthquake hit Haiti in the afternoon of Tuesday, January 12 and devastated the capital Port-au-Prince, the world community and international NGOs hastened to get aid to an estimated 3 million people affected. Buildings were leveled, roads blocked with rubble, and phone lines were down. Even as financial donations were being sent by concerned citizens the world over and frantic calls were made for Haitian Creole translators to help emergency workers on the ground, Western media was reporting that organizations were frustrated with lack of access to aid due to bottleneck at the airport, and USAID Administrator Rajiv Shah reported the need to "dramatically expand the in-country distribution network." Tasks such as getting more accurate locations of those trapped or needing assistance, and directing NGO workers to those requests would be key in making sure that the aid that was pouring in was getting disbursed in a timely and efficient manner.
Today The Washington Post reports that "A record $22 million has been raised via text messages by the American Red Cross for relief efforts in Haiti, a groundbreaking statistic that could propel an important new avenue for philanthropy going forward."
But there is something even more incredible happening. Mobile phones and online crisis mapping tools have enabled tech developers and volunteers to collaborate in other unprecedented ways.
Ushahidi – Crowdsourcing from Africa
While mobile phone providers in Haiti were scrambling to have their services up and running again, Erik Hersman Co-Founder of Ushahidi (a crowdsource information tool originally used in Kenya) blogged that Ushahidi is now "heavily involved in mapping and integrating crowdsourced information from Haiti into an aggregated map that is being used by both people on the ground who need help and those who can provide relief."
"We're running what's basically the 911 system for Haiti through a local shortcode on the Digicel network 4636," Hersman says. The 4636 SMS campaign team members are located in Kenya, Uganda, the United States and on the ground in Haiti. Ushahidi designers and developers are based in Canada, the Netherlands, and in several African countries including Kenya, Malawi, Ghana, and South Africa.
"It became clear we needed a local SMS short code to make mobile reporting more viable," Hersman writes, so D.C. based Josh Nesbit (Co-Founder of FrontlineSMS:Medic) located exec of Haiti's Digicel, (the leading mobile operator in Haiti) on Twitter, and connected Digicel command center with Ushahidi and U.S. Department of State. The result was a shortcode 4636 which Haitian subscribers could use to text their emergency requests. The texts received were then fed to an online database developed in collaboration with Palo Alto-based InSTEDD and Maryland-based DAI groups.
Boston-based Peter Meier, Director of Media & Partnerships at Ushahidi and PhD student at The Fletcher School at Tufts University, also blogs about the Ushahidi-Fletcher Situation Room and virtual collaboration to link volunteers and translators for the 4636 SMS campaign. He notes that approximately 10,000 Haitian online volunteers are translating the incoming SMS messages from Creole into English and assisting other 4636 SMS campaign volunteers in relaying information to NGOs on the ground in Haiti. "We really couldn't do this project without the help of the Boston situation room. They are combing through the reports, getting updates via many different forms of media – basically making sense of a mountain of incoming data," he writes.
Other virtual situation rooms are being set up as developers are coordinating a training session at the Fletcher school tonight to ensure continued reporting.
The 4636 shortcode is also being used to register mobile numbers of subscribers in order to send vital information to them such as where to seek medical, food, or other emergency assistance. Approximately seven aid organizations in Haiti including Red Cross, Clinton Foundation, and International Medical Corps are currently receiving the RSS feeds from Ushahidi's 4636 SMS campaign.
Hersman says assistance is still needed to process incoming requests. To help please click here.
You can also use Change.org's "How to Volunteer for Haiti Without Leaving Your Home" Tips.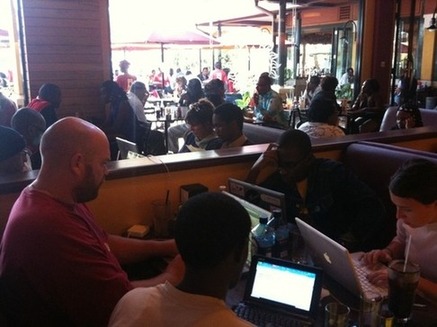 6 of the Kenya team working at Ushahidi ad hoc situation room in a coffee
shop in Nairobi. (Photo at Twitter).
—-
Join the conversation on Twitter and Facebook.