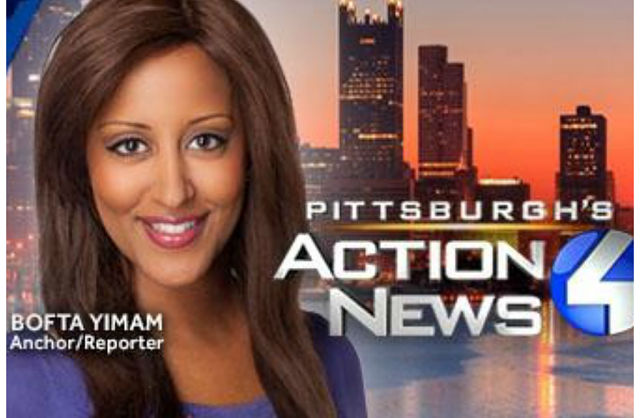 Tadias Magazine
By Tadias Staff
Published: Thursday, January, 21st, 2016
New York (TADIAS) — Investigative reporter Bofta Yimam, who won the 2013 Regional Emmy Award (Nashville/Mid-South Chapter) for excellence in the 'Continuing Coverage' category — while nominated for three awards overall by the National Academy of Television Arts & Sciences — has been promoted as Weekend Morning Anchor at Pittsburgh's Action News 4 Television (WTAE). The network announced that Bofta's new post commences on Saturday, January 30th, 2016.
"Bofta is a talented journalist who is passionate about the Pittsburgh community," WTAE President and General Manager, Charles W. Wolfertz III said in a statement. "She has been a strong asset to Action News Investigates and we look forward to her help in maintaining our dominance in the weekend mornings."
Bofta said she is "thrilled and honored to have this opportunity at WTAE Channel 4 and look forward to joining the #1 morning news team." She added: "Pittsburgh is a beautiful city that I love exploring. I'm excited to continue my journey here."
The Ethiopian American journalist, who is a native of Washington, D.C. and a graduate of University of Maryland, College Park, is also a recipient of several media professional awards including the 2011 Regional Edward R. Murrow Best Breaking News Story Award, the 2009 Regional Edward R. Murrow Award as part of "Crime and the City" coverage, and the 2008 Community Broadcasters Association Best Breaking News Story Award.
In a 2013 interview with Tadias, Bofta recounted how she got her start in journalism with her first job in the small town of Dalton, Georgia (population 40,000). "I left the D.C. metropolitan area and really jumped at the opportunity to be able to be on air..and do the things that I wanted to do," she said. "The training just continued and I kept meeting more people who were mentors, who offered more advice."
Bofta went on to work at a cable station and at a CBS affiliate in Macon, Georgia before receiving three Regional Emmy nominations and winning one while working in Memphis.
"There are so many different avenues of journalism that you have to put yourself out there, and have a kind of go-for-it type of mentality, because you can't just hope" she says. "You gotta get the skill sets and be willing to hit the ground running."
In a press release Pittsburgh's Action News 4 said that "during her nearly three years as an Action News Investigates reporter, Bofta has uncovered wasteful spending and wrong doing. One investigation revealed able bodied drivers illegally taking handicapped spots in Port Authority parking lots, and her story on elder abuse exposed the failure to track cases in Western Pennsylvania, pushing authorities to take a closer look at the problem across the state."
In addition to her reporting WTAE shares that "Bofta served as Special Events Chairwoman of the Pittsburgh Black Media Federation, helped organize the Robert L. Vann Media Awards program, and was recognized for her journalism coverage of the African-American community of Western Pennsylvania." Bofta was a guest speaker for events organized by Young Ethiopian Professionals and Ethiopian Heritage and Culture Camp, as well as lent her voice to sing "the National Anthem for the Race for Every Woman 5K, which helps raise funds for breast cancer awareness among Ethiopian and Eritrean women."
Watch: Bofta Yimam Emmy Award Acceptance Speech 2013

—
Join the conversation on Twitter and Facebook