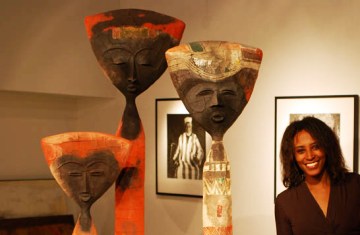 Tadias Magazine
Art Talk
Updated: Monday, January 23, 2012
New York (TADIAS) – In the heart of Chelsea, one of the centers of the New York art world, lays a gem for African art lovers. Skoto Gallery that opened in 1992 is one of the first contemporary African art galleries in the United States focusing on a mix of artists from the continent and the Diaspora.
Since its inaugural exhibition two decades ago – curated by jazz icon Ornet Coleman and held at its previous location in SoHo – the gallery has mounted memorable shows highlighting artists hailing from several African countries including Ethiopia, Sudan, Ghana, Nigeria, Egypt, Cameroon, and Senegal.
In a recent press release Skoto Gallery announced that it is preparing to host its 20th Anniversary Exhibition this week featuring works by at least seventeen contemporary artists including Ethiopians Etiye Dimma Poulsen, Wosene Kosrof, and Tesfaye Tessema.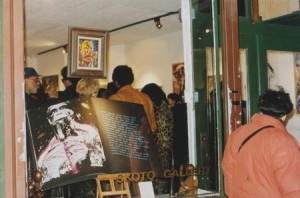 (Photo: Inaugural exhibition at Skoto Gallery, 1992)
"It is tempting to talk about Skoto Gallery as a secret treasure of the New York art scene; but doing so brings up a lot of contradictory data," wrote poet and critic Geoffrey Jacques. "For instance, how does a "secret" survive two decades in a historically tough scene made even tougher by the cultural and economic head winds that have buffeted art, the New York art world, and the world in general in the last few years?" He added: "To say the quality of the work shown at Skoto Gallery during these last twenty years is responsible for its success would be one obvious truth. There is, however, more to it than that. Skoto Gallery performs a vital intervention into the very idea of contemporary art."
In an interview with Tadias Magazine a few years ago, gallery owner Skoto Aghahowa stressed the importance of having a greater understanding of the creative process, the environment in which artists operate, as well as marketing and communication skills within the African artist community. "A piece of art work retains its value when one strikes a balance between scholarly work and commercial success," Skoto said. "The most important work of an art dealer is to be familiar with the work of world artists, not just African artists, and to help create a context in which the work can be understood and appreciated."
Geoffrey Jacques noted: "I remember being so moved by a 1995 exhibition of works by two sculptors that I had to write about them. The pairing was, at first glance, audacious: Tom Otterness, from Kansas, who lived in New York; and Bright Bimpong, from Ghana, who was, at the time, studying in New Jersey. It was the kind of beautiful exhibition we're now used to seeing at Skoto Gallery."
—
If You Go:
Skoto Gallery
20th Anniversary Exhibition
January 26th – February 25 , 2012
Reception: Thursday, January 26th, 6-8pm
529 West 20th Street, 5thFL
New York, NY 10011
www.skotogallery.com