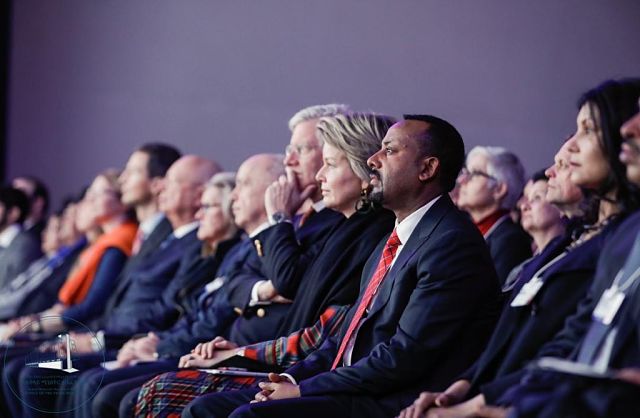 Tadias Magazine
By Tadias Staff
Updated: January 24th, 2019
New York (TADIAS) — The 2020 World Economic Forum on Africa, which brings together thousands of public and private sector leaders from around the globe, will be held in Ethiopia. The office of Prime Minister Abiy Ahmed made the announcement this past Wednesday following Abiy's visit to Davos, Switzerland where he met with German Engineer and Economist Klaus Martin Schwab who founded the World Economic Forum in 1971 as an international institution for public-private cooperation.
"The PM & Prof Schwab discussed the importance of a collaborative approach among government, private sector, civil societies in addressing key global challenges," PM Abiy Ahmed's office shared via Twitter, adding that "they agreed that Ethiopia will host WEF in 2020."
According to the WEF website, "The Forum engages the foremost political, business and other leaders of society to shape global, regional and industry agendas. We believe that progress happens by bringing together people from all walks of life who have the drive and the influence to make positive change."
The event next year will mark the second time that the international forum is being held in Ethiopia. The country hosted the regional version of the gathering in 2012. The 2019 World Economic Forum on Africa will be held in Cape Town, South Africa in September.
—
Related:
Watch: At World Economic Forum PM Abiy Outlines New Investment Opportunities in Ethiopia:
Join the conversation on Twitter and Facebook.