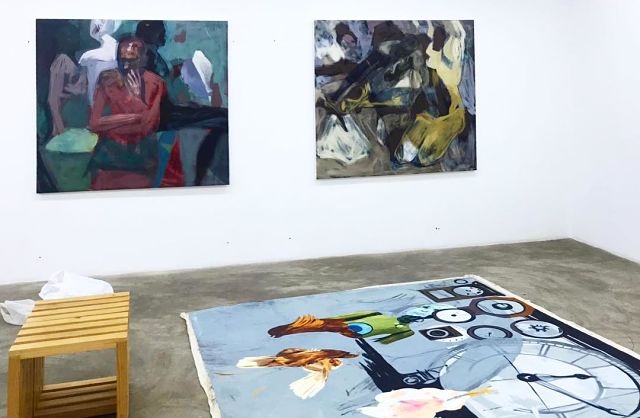 Tadias Magazine
By Tadias Staff
Published: January 23rd, 2019
New York (TADIAS) — Addis Fine Art Gallery, which focuses on contemporary fine art collections from Ethiopia and the Diaspora, will host its third annual group exhibition next week titled "Addis Calling" featuring emerging local artists.
The gallery announced that this year they are presenting works by Frew Kebede, Tizta Berhanu and Yohannes Tesfaye. The show is set to open on January 29th and will be on display thorough March 23rd, 2019.
Below are preview images and descriptions of each artist courtesy of Addis Fine Art Gallery:
Yohannes Tesfaye (1978) focuses on two and three-dimensional paintings in acrylic, oil on canvas, wood, fiberglass and a variety of mixed media. His paintings reference African traditions and culture. Using contemporary materials and techniques, his current work examines the practice of ritual tribal scarification in a twenty-first century artistic and historical context.
Tizta Berhanu's (1991) main inspiration is human emotion in all its facets, portraying her subjects expressing love, hate, sadness, loneliness etc. Trying to capture the true emotion underneath the surface of their skins. Her paintings are often ambiguous, almost unrecognizable, painted with broad confident brush strokes in deep intense colours. Blues, purples and deep-sea greens, dominate the canvasses creating an almost uncomfortable atmosphere wherein the viewer comes voyeuristically close to the emotions of the portrayed.
Frew Kebede (1982) is a multidisciplinary artist working in a variety of mediums but his current focus is painting. As a musician, Jazz music plays an important part in his life and is one of his main inspirations. In his paintings, he is exploring the visual aspects of jazz music, transforming notes and rhythm into paint and brushstrokes creating colourful, vibrant canvasses, engaging the viewer into seeing things from different perspectives.
—
If You Go:
Addis Calling III Exhibition
January 29th – March 23rd, 2019
Addis Fine Art gallery
(3rd Floor, Red Building Behind Mafi City Mall)
Bole Medhane Alem
Addis Ababa, Ethiopia
Tel: +251 913 426553
www.addisfineart.com
Join the conversation on Twitter and Facebook.