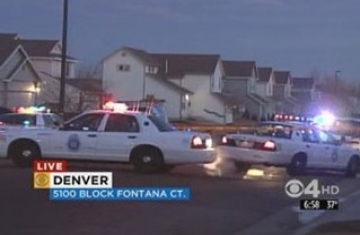 Above: An image of the crime scene on Dec. 29.
The Denver Post
By Kirk Mitchell
01/23/2009
The Denver District Attorney's Office has said an officer who shot a man who charged him with what appeared to be a knife but was a cross was justified in firing his gun.
Prosecutors decided not to file criminal charges against officer Gregory Ceccacci, who shot Samson Ferde at 4 a.m. during a Dec. 29, 2008, domestic violence call.
Police responding to the call on the 5100 block of North Fontana Court were told he was threatening to kill his sister and her family.
Ceccacci and another officer were confronted by Ferde, who was covered with blood after stabbing himself with a knife.
Ferde had lost his job as a cab driver five months earlier and had rarely gone out of his brother's home since then, according to a police report.
He had gone to a religious meeting at the Pepsi Center, where a preacher picked him out of the crowd and said God had a plan for him. Relatives told detectives his mental health had declined since then. He said he could see things others couldn't.
He called his sister and told her he was coming to save them on the night of the confrontation with police. He had cut himself and had blood all over himself.
When they saw him, officers ordered Ferde to kneel. He did so, but then got up, turned around and ran at officers with an object in his hand, according to the police statement.
"He had a look in his eye that scared the hell out of me," Ceccacci was quoted as saying in the police report.
Ferde was within 11 feet of Ceccacci when he began firing at Ferde. He fired three shots.
"The attack occurred in an instant, forcing officer Ceccacci to make a split-second decision to defend himself," said a letter from District Attorney Mitch Morrissey's office to Police Chief Gerry Whitman.
Less lethal weapons were not available under the circumstances, the letter says.
The object in Ferde's hand turned out to be a 3-by-5-inch cross.
In Ferde's truck, investigators found the 12-inch blood- stained knife he presumably had cut himself with earlier.